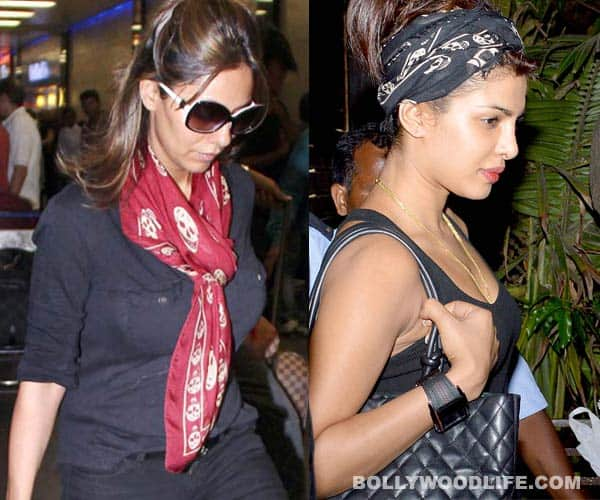 One might be the leading lady in SRK film's the other is his real life heroine…
Priyanka Chopra and Gauri Khan have something in common besides Shahrukh Khan. PeeCee has romanced King Khan on silver screen, and Gauri Khan is his perfect partner in real life. But, the Exotic babe and Mrs Khan's connection extends even to their choices, especially clothes. Priyanka was recently spotted in a de-glam avatar, sported a black scarf with skull designs on it and we thought that only Ms Chopra could make such a stunning picture without any make up. Priyanka has been spotted with this scarf at her various outings at the airport. So, we were pleasantly surprised when we saw Gauri with almost same scarf only in a different colour. While both these ladies chose this on a black outfit they wore it differently. Priyanka tied up her hair in a high pony tail and used this scarf as a head band whereas Gauri chose to sport it like a scarf around her neck.
Well, we certainly think that both these babes struck cool pose. BollywoodLifers, tell us, who wore the scarf better – Gauri Khan or Priyanka Chopra?