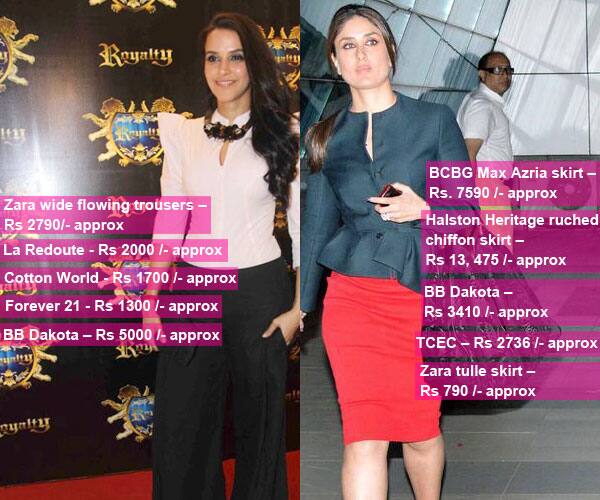 Considering both are such cool style statements, which one will you pull out of your wardrobe for your next big gathering? A safe style choice (skirt) or a an unconventional statement (wide-legged trousers)?
We picked two Bollywood babes who are very fashion savvy. Kareena Kpaoor is seen in a pretty sheath skirt and Neha Dhupia in cool flared trousers. While Bebo resorts to a very safe choice, ND makes sure she creates a cool mixture of a whacky statement teamed with classy options. The skirt has a universal appeal, while a cool pair of palazzos may tickle the fancy of only a certain clique.
Both outfits have their own charm. Pick a skirt when you are in a mood to take the ultra feminine route. Spare those wide-legged pants for one of those days when you have a spring in your step, you want to look girly but in a tomboyish and a funky way and seek attention – not for your body, but your attitude.
So after all this gyaan, which will you prefer – a cool skirt or a happening pair of palazzos?