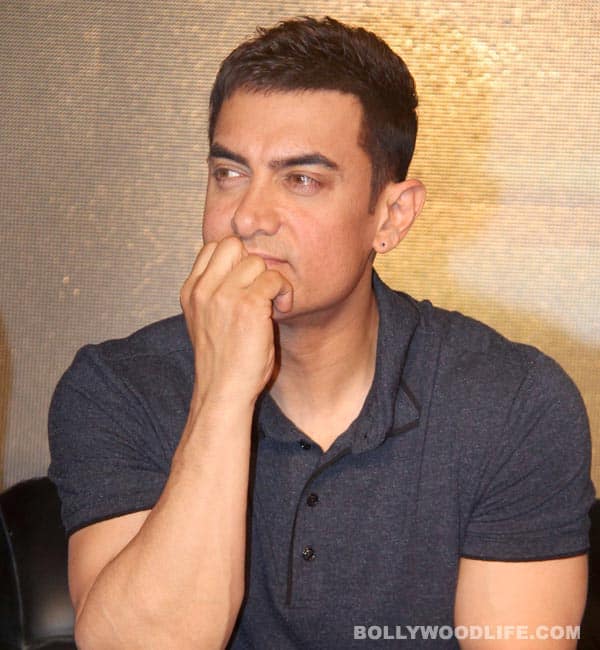 Aamir Khan has turned down 200 scripts in the last one year. We wonder what the super-picky producer is really looking for!
Aamir Khan's obsessive perfectionism has reached new heights, it seems. It was recently reported that the actor-producer has almost turned down 200 film scripts in the last 12 months. And we would understand if it were novice film writers who were bugging him by sending him scripts by the boxful, but no. We're talking about established filmmakers like Vishal Bhardwaj, Rohit Shetty, Pradeep Sarkar and Priyadarshan – whose movies have not only been critically appreciated, but have also earned a ton of moolah at the box office. And these biggies from the industry seemed to have tried and failed to get past Aamir's script detector.
So with such unsettling reports coming in, we got thinking what kind of script would eventually tickle the great man's fancy? Just what is that special mix of story and characters that will spark the winning director's mind and inspire him to take on the project?
Now, we have often observed that Aamir chooses roles that are dramatically different from what he has done earlier. So, if he played a villager in Lagaan fighting the British, he played a British soldier in Mangal Pandey. And while he was a teacher in Taare Zameen Par rallying for autistic kids, he played a brainiac student in 3 Idiots. And finally, for Ghajini's vigilante brain-damaged millionaire who is above the law, Aamir played a law enforcer in Talaash.
Here's why our theory holds true – after playing a cop in Talaash, Aamir straightaway took on to playing a super-thief in his next Dhoom: 3. See what we were saying? And since we have cracked his pattern of choosing roles, let's get on to what sort of a script will really excite him.
Since Aamir is playing an alcoholic in Rajkumar Hirani's next film P.K, there is a really good chance that he may want to tackle a heavier subject the next time. And what would be the opposite to a wasted alcoholic? A social reformer maybe in an honest-to-God biopic on some great personality? Well, a great choice would be to play someone like  Verghese Kurien, the father of the white revolution in India who single-handedly empowered the farmers in Gujarat and set up Amul. Now it is common knowledge in B-town that director Tigmanshu Dhulia is looking to make a biopic on Verghese Kurien, and given Tigmanshu's ghamashaan track record, wethinks he has a great chance to hook Aamir with the script.
So, all you aspiring and established filmmakers, better put on your thinking caps! The trick here is to write an out of the world character that is not only as unlike as the last character Aamir has played, but something that would completely put him out of his comfort zone too!
What kind of script the super-picky producer Aamir Khan would like, a