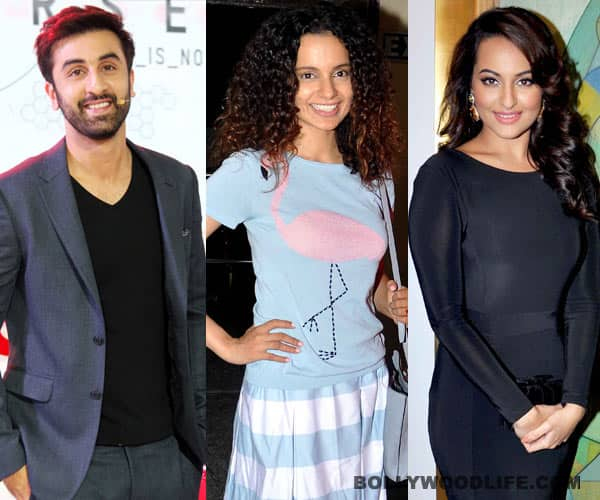 The Queen actor is garnering praises from most B-townies for her performance in her latest release. Read on to know what people from filmdom have to say
Kangana Ranaut's Queen has hit the theatres and the curly-haired babe is receiving praises from everywhere. Most people are saying that it's not only one of the best films to have released in quite a few years, but it is also Kangy's best performance, we hear. So much so that celebs like Ranbir Kapoor and Sonakshi Sinha, among others have been singing praises for her. What is it that Kangs has and RK wants, you wonder? And considering that Kangana as Rani in Queen has impressed everyone, what do her contemporary female actors have to say?
Well, Ranbir said, "I wish I get to play a character as strong and entertaining as Queen. I couldn't think of one thing to change and totally loved the film." We wish too that the Rockstar actor gets to play a strong character soon, someday. Sonakshi too has loved Kangy in Queen. Sona said, "Kangana is phenomenal. I want to congratulate the production house and thank them for making such an entertaining film."
The actors and director of Ishqiya have also praised the Queen actor. Richa Chadda said, "It's a beautiful film and it made me happy. Kangana fits the role like a glove. I have always admired Rajkummar Rao as an actor, but with this film, I love him even more." Huma Qureshi said, "The film refuses to leave me. It is now in my favourites' list. Kangana is in top form." Director Abhishek Chaubey said, "Armed with a sweet story, great music and an absolutely smashing performance by Kangana, Vikas has created one of the most endearing films of our time."
While the industry is abuzz about Kangana's performance, the film's director Vikas Bahl says, "The response has left us ecstatic. We hope the film gets the same reception at the box office as well."
We hope that Kangana's Queen is received well at the box-office especially as everyone is raving praises for the film.