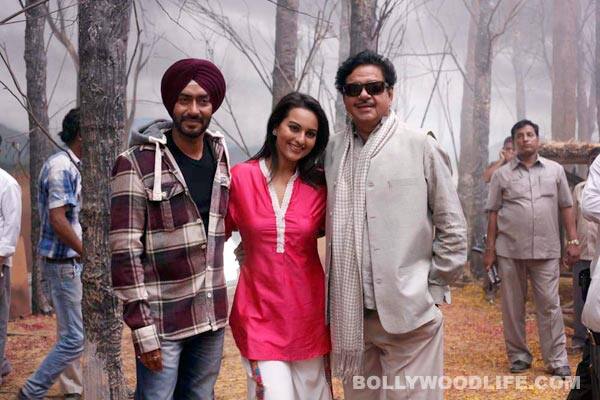 Nope, the Son Of Sardaar babe doesn't endlessly sob in the bathroom, but has a cool strategy to overcome that feeling of missing family
Our khufiya khabri disturbed us in the middle of a dark night to give us an interesting piece of information about the voluptuous Sonakshi Sinha. But when we heard the goss we weren't quite impressed with our source's intelligence or judgment. But since we had to suffer a bad joke, we felt that you should too. Share and share alike, no?
He says, "Every time Sonakshi misses her papa and mummy she comes up with a plan to see them." No, she doesn't run away from work, but has a better strategy. It so happened that during the Patiala shoot schedule of Ajay Devgn's Son of Sardaar, Sona – who's been running from one film set to another – started missing her family. Thanks to Martin Cooper's invention (mobile phone), she spoke day and night to her parents, but we understand that nothing compares to Daddy's big arms for a darling daughter. Right, na?
So as soon as the Khamosh man Shatrughan Sinha found out that Sona was missing home, he boarded a flight straight to Punjabi Pradesh to pay a surprise visit to meet his beti at work. Of course, it turned out to be a joyous reunion for the father and daughter that even younger Daddy Ajay witnessed. Hope he didn't miss his baby girl Nysa 'coz of these two bonding!
Anyway, didn't we tell you our KK's lost it? What's the big deal about Sona tricking Daddy dear into visiting her? D'you know?