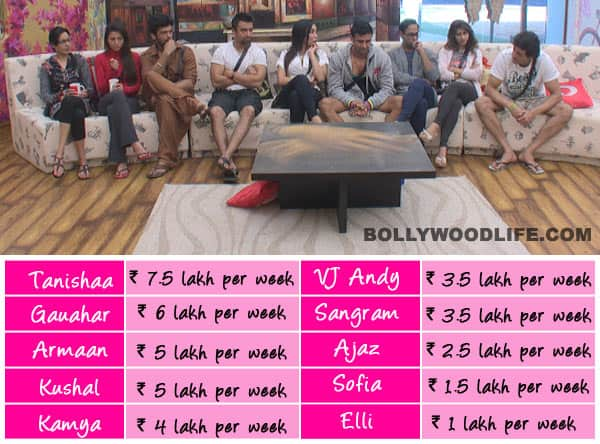 Every deal has its ups and downs. The agreement that participants on Bigg Boss sign is no different. But what are the clauses involved? We find out…
Reality show Bigg Boss has been making its loud presence felt on the small screen for seven years now. The deepest secrets of various celebrities big and small have come out into the open through this controversial reality show. But there is one thing that has remained a top secret all the while. It's a piece of paper called the Bigg Boss contract. And everyone who is part of the show has to sign it, thereby agreeing to all the clauses.
We don't have a copy of the entire contract, but we know about some of the clauses it contains. And some of them could come as a bit of a surprise to all those who believe that the contestants are being natural…or even that the show is all fixed, staged, rehearsed, whatever you want to call it. Actually it is neither, but a kind of combination of both. The contract for the high voltage reality show reportedly includes clauses that require contestants to provoke others, or try to get cosy with them for more moolah. So if a housemate provides a lot of content that the contract clearly defines, he/she can renegotiate their fee with the creative team. Why else do you think the celebs in the madcap house behave the way they do? Why do you think Gauahar Khan-Kushal Tandon and Armaan Kohli-Tanishaa Mukherji are so often seen getting cosy with each other? Or why does VJ Andy get into a fight every day? It is all because of the contract, we are told. And as per the terms and conditions of the contract, the Bigg Boss 7 housemates are getting the amount mentioned in the picture.
That's not all. The contestants are apparently bound by the contract for six months after the show, during which they cannot participate in other reality shows and have to be at channel's beck and call for publicity or special events. So while many of you love Elli Avram and Sangram Singh, sadly you won't see them compete again in any other reality show for the next half year at least. Also, the contestants are required to attend the channel's awards shows. So if you spot Tanishaa Mukherji or Gauahar Khan wearing their designer gowns at a Colors event, don't be surprised. It's all part of the deal, you know!