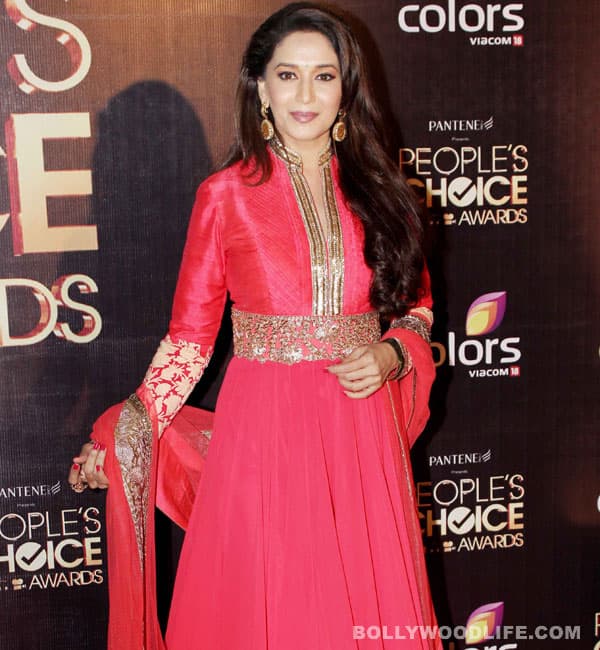 Madhuri Dixit was an exclusive name, tough to be seen on celluloid, but now we find her gracing our TV screens through television commercials and reality shows. Will all this television presence work in her favour? Or should she keep herself exclusive to films? Will she ever become a director or a producer? Do we see her back in the big league of actors? How does Dedh Ishqiya start her off this year? With so much going on, Tarot predicts what's in store for Madhuri in 2014
It's a fiery, energetic and a possibly controversial year for Madhuri Dixit-Nene. Her year opens with a Vishal Bhardwaj release, Dedh Ishqiya. Although an overall successful film at the box office and critically acclaimed, it will not set the box office on fire like a Dhoom 3. But the High Priestess and the Six of Wands shows its' content being appreciated and respected far more than a Dhoom:3. Such appreciation and respect sets up her 2014 quite nicely. Her innate quality to mould herself and take on challenges will keep her audiences enchanted and surprised. The same energy will be felt in Gulaab Gang – although not the best opener, it will pick up and surprise a few. The King of Pentacles and the Queen of Wands shows the perfect combination of financial success and feminine power coming to the forefront. Both films will eventually do well and Madhuri will excel in both roles, but she has yet to break tougher barriers. 2014 starts off her transformation, but it's 2015 that will give her the real fruits of labour – it will be the year that will change her stature as an actor especially if her combinations are with Salman Khan, Shahrukh Khan, Aamir Khan, Akshay Kumar or even Sunny Deol.
Amidst all of this, there is always a temptation to get into producing or directing. This sounds like a natural progression and the Wheel of Fortune suggests this to be the case, but it also forewarns of jumping ahead and taking on too much. Production will be a certain wise move in 2015, but 2014 is all about acting and signing on better projects.
We find Madhuri judging reality shows, endorsing tooth pastes and promoting her film on television. This can hint of over-exposure, but the cards see this differently. Television will soon prove to be a platform from which she will innovate and may even challenge some set genres quite successfully. The Magician shows her to find more success and appeal than she has done in the past years of being on TV. But does this mean that films will be less successful for her? No, not if the Seven of Pentacles and the Six of Cups appears – in combination, these cards show some unexpected rewards with old acquaintances that will have the cash registers rolling with money (hence working with Salman, Shahrukh, Aamir seems possible). It will all be about multi-tasking yet remaining focussed. 2014 will be good only for 2015 to be brilliant.