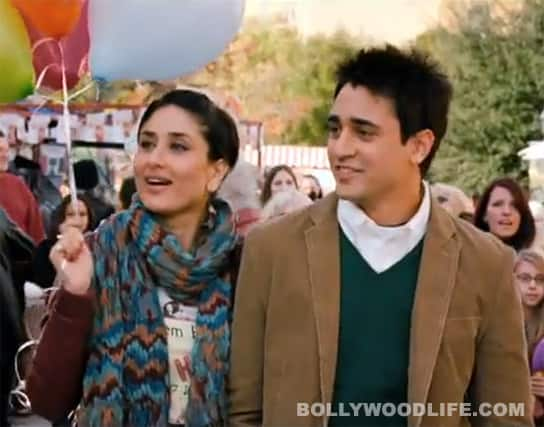 UTV has a rather limited slate lined up for 2012, comprising only six films. But clearly, the company believes in quality over quantity. But are the films really going to work? Let's take a look
First up is Ek Main Aur Ekk Tu, due a February 10 release, a co-production with Karan Johar's Dharma Productions. The synopsis goes thus: EMAET is a lighthearted, tragicomedy about a guy in his mid twenties, going through a breakdown in his personal as well as work life. Rahul Kapoor (Imran Khan), 26, loses his job as an architect in Vegas and by a twist of fate he meets Riana Braganza (Kareena Kapoor), a quick-witted hairstylist, who is everything he isn't. Will this friendship turn to love? The film has a great title that has an instant nostalgia name recall value besides a killer cast and music by the brilliant Amit Trivedi. Since it's also releasing in the Valentine's Day frame, it's likely to be a winner.
May sees the release of Luv Shuv Tey Chicken Khurana, a co-production with Anurag Kashyap. Synopsis: The film celebrates the lovable quirks of a Punjabi joint family with its inherent humour, drama, confusion, emotion, and the secret recipe for a famous chicken curry 'Chicken Khurana', which forms the crux of the plot. The title alone should be an instant seller in North India. However, the lead cast comprising Kunal Kapoor and Huma Qureshi can't open a door, let alone a film. Perhaps the low budget and fans of the Kashyap quirkiness will edge this one past the box office finish line.
June 15 see's UTV's first big 'if', Rowdy Rathore, a co-production with Sanjay Leela Bhansali's SLB Productions. Synopsis: The film is a remake of the superhit Telugu film Vikramarkudu, which was also remade in Tamil as Siruthai, another hit. The film will see Akshay Kumar back in his original action avatar, this time under the direction of the maestro of the masala action genre, Prabhu Deva.
This is a tough one to call. On the one hand we have a proven subject and the magic of Prabhu Deva the director who made the superhit Ready. However, that film starred Salman Khan and this one stars Akshay who is on the wane. Plus Bhansali is associated nowadays with expensive flops. And the south has already seen the film in their languages.
July see's the barf-inducing title Barfii. The risible synopsis reads thus: He is cute. He's shrewd. The girls love him. The cops hate him. He can't speak but is always talked about. His naughty antics will make you scream, but he will never listen. Cos he can't! Ride a rollercoaster of emotions with Barfii – the Chalu Chaplin! Ugh. But it stars Ranbir Kapoor, Priyanka Chopra and southern hottie Ileana, and, Anurag Basu (we'll kindly forget Kites for a moment) is the director. It should stumble through.
August 30 sees UTV's second big 'if', Joker 3D, a co-production with Akshay Kumar and Farah Khan. The wannabe wacky synopsis reads thusly: Akshay Kumar returns to his hometown, a place that's so remote and crazy that it's not even on the map. And then what follows puts this forgotten little town not just on the country's map, but makes it the focus of the entire globe! Aliens! Is the town really the site of an alien invasion? Will Akshay manage to change the game – just like the joker does in a pack of cards? Get set for India's coolest (and first ever) comedy starring aliens! In 3D! A for effort and innovation, but sadly the last time Akshay, Farah and her hubby Shirish Kunder collaborated, we got the nausea inducing Tees Maar Khan…
And lastly, UTV promises us Heroine, starring Kareena Kapoor, in September. They say: The film is an entertaining, daring, emotional, shocking, glamorous, scandalous behind the scenes account of the reality behind the world of glitz and glamour that our film stars inhabit. For a country obsessed with films and film stars, Heroine will take audiences on a voyeuristic journey to see what really goes on behind the closed doors of make up rooms and vanity vans.
Madhur Bhandarkar can't direct to save his life and all that the scandals that the synopsis promises are already available on television, for free. Can Kareena carry a film by her lonesome? There's only one way to find out.