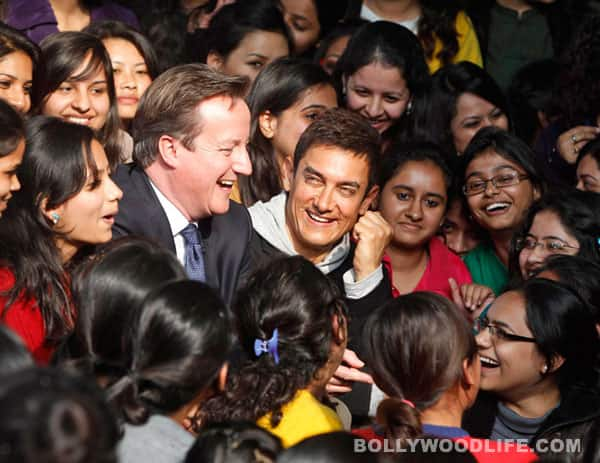 skip advertisement
Look at these pictures, and you'll know know what we mean!
Bollywood superstar Aamir Khan met British Prime Minister David Cameron in New Delhi on February 19, when the two interacted with students at the Janki Devi Memorial College. Looking at the happy pictures from the event, wethinks Aamir has made a great friend in the UK PM. But we also feel that in his typical style, the thinking actor of B-town gave his own gyan to the visiting premier (especially since he is a year older than Cameron!). What could the two have talked about?
Maybe about Khan's causes, his TV show Satyamev Jayate, or his Rs 200-crore movies. Or maybe about Cameron and his country's plans for tie-ups in India. They definitely talked about women's issues – since the venue was a girls' college – and jobs for the youth in India and abroad. Cameron tweeted, "I joined @aamir_khan, one of Bollywood's biggest stars, to talk to the students at Janki Devi University."
Khan, who usually keeps away from Twitter, chose to tweet about this special meeting. He said, "It was a real pleasure to meet with Prime Minister @David_Cameron, and interact with the students at Janki Devi College."
We're wondering if this meeting will lead to Khan landing endorsements from English companies… Or maybe he will campaign for British tourism after successfully doing the Incredible India ads? We don't know, but Aamir is slowly entering Shahrukh Khan's territory of London and the Diaspora, it seems. What do you think?
Meanwhile, take a look at pictures from the Aamir Khan-David Cameron event in New Delhi.
Photo: NDTV Movies and David Cameron Twitter