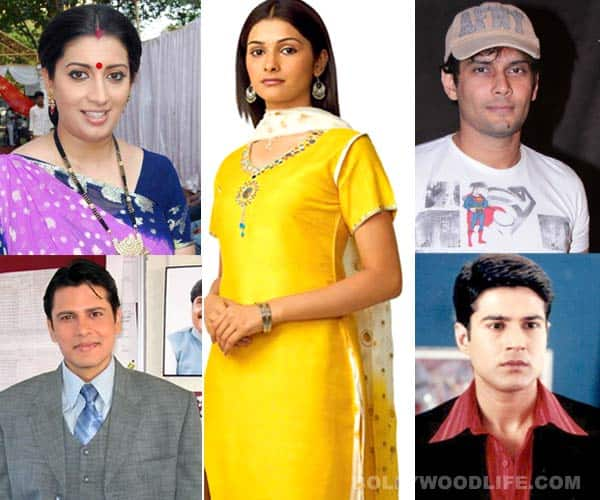 Actors quit a television show mainly for two reasons – a better opportunity or simply because they have issues with the production house involved. But what happens next?
Sometimes TV serials go on for seven years and sometimes they last only for seven months, but once the audience begins to watch a show, they tend to become fans of the actors who play their favourite roles and the characters themselves. A daily soap requires television actors to eat, sleep and live the show and the roles they play for up to 18 hours a day. Hence it is very important for them to love their work and the people they work with.
Very often, stars leave shows that have made them household names 'coz of creative differences with the production house involved. Some actors like Barun Sobti, Rajeev Khandelwal and Prachi Desai – to name a few – are lured by the big screen, looking to become the next Salman Khan or Ranbir Kapoor in Bollywood. And those like Karan Singh Grover and Smriti Irani may have found new openings in production while Mohnish Behl and Pratyusha Banerjee reportedly just got bored of playing their characters.
But what happens when the audience's favourite actors decide to leave a show midway through a story sequence? The daily soap and the production house ultimately face the wrath of the audience. The serial could suffer and even come to a crashing and unexpected halt. Or, in some cases, a new actor is hired and does more than justice to the role. Consider these TV shows that suffered huge losses when their main leads quit…
Kyunki Saas Bhi Kabhi Bahu Thi – Mihir – Amar Upadhyay
The serial was scheduled for a time leap and Amar and Smriti Irani were expected to age, with their kids taking over the lead roles. Amar was not too happy about becoming older and hence decided to opt out of the popular soap. Initially, Ekta Kapoor decided to kill his character, Mihir, but after seeing the outrage of fans – and there were huge numbers! – she decided to bring in another actor (Ronit Roy) to play the part. Surveys indicate that even today people prefer Amar as Mihir rather than Ronit. The show saw low TRPs, but with some new entries and a few twists in the story, it picked up again.
Kyunki Saas Bhi Kabhi Bahu Thi – Tulsi –Smriti Irani
The actor had become a household name with her portrayal of the perfect bahu. But when Smriti decided to quit to start her own production house, people were so enraged that they went out on the streets demanding their favourite Tulsi come back on the show. Ekta replaced Smriti with Gautami Kapoor, but the response was never the same, not even after Smriti made a reappearance, and eventually they had to shut shop owing to low TRPs.
Kahiin Toh Hoga – Sujal Grewal – Rajeev Khandelwal
The chemistry between Rajeev and Aamna Shariff was spellbinding and they soon became audience's favourites. However, when Rajeev sought to achieve his Bollywood dreams, there was a void in the show, which newbie Gurpreet Singh could not fill. The actor tried hard, but could not recreate the magic of the earlier couple. The show eventually died a premature death and apparently Ekta and Rajeev still don't see eye to eye.
Kasamh Se – Bani – Prachi Desai
Ram Kapoor and newbie Prachi Desai made an awkward couple whom people got used to, and fell in love with eventually. When Prachi was offered Farhan Akhtar's Rock On!!, the actor gracefully took Ekta's blessings and moved on. The producers replaced Prachi with Gurdeep Kohli, but people missed the chemistry between Ram and Prachi. The makers tried to stretch out the show as much as they could, but eventually they had to end it far earlier than anticipated.
Kasautii Zindagii Kay – Anurag Basu – Cezanne Khan
The show was one of the most popular saas bahu sagas of its time. Shweta Tiwari and Cezanne Khan owe their success to Kasautii Zindagii Kay. However, differences between the two actors reached the point that Cezanne was compelled to quit the show, or so we hear. There were also rumours that the actor had hopes of working in movies. He was replaced by Hiten Tejwani, but that really did not sit well with the audience. The makers changed the story to fit the situation, but TRPs remained at an all time low until the plug was finally pulled.