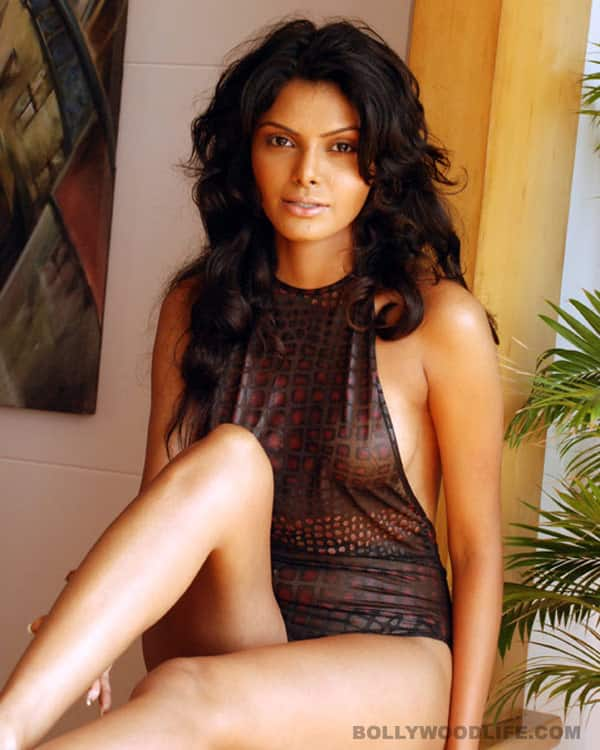 Besides her fans – and us, of course – a certain Veena Malik wants to know where the starlet's sexy magazine cover has vanished to. Well, this is something only the Kamasutra 3D actor knows…
Veena Malik and Sherlyn Chopra aren't the best of friends. So when the former tweeted, 'Where did the apparent playboy cover of Sherlyn Chopra go', we are sure that it wasn't a gentle reminder or asked out of concern. Maybe Ashmit Patel's former girlfriend wants to grab a little limelight now that she has decided to retire her 'sexy' image and retreat from commercial cinema. Frankly speaking, we don't care about Veena's motive, but her question has certainly got us thinking. Ms Chopra shot for the cover of Playboy in 2012 and it was supposed to be out in November 2012. But that didn't happen. And we see no sign of it even now…we have been looking! Sherlyn used Twitter to inform the world that her cover shot for the popular girlie magazine would hit the stands in early 2013. If it had, we would all know about it, hai na? After all, would Sherlyn resist doing a PR blitz? So the question is – will we ever see Sherlyn Chopra on Playboy? We dunno. In fact, nobody knows except for the Bigg Boss 3 contestant.
But here's the problem: The Dil Bole Hadippa! actor no longer speaks of her stint with her 'friend' Hugh Hefner at the Playboy mansion. And there is absolutely no mention of the magazine cover. Well, why would she say anything? And does she need to, now? Coz this hungry for publicity B-town babe got what she wanted – fame, fame and more fame. When she tweeted that she would be posing nude for Playboy, her online fan following doubled within no time at all. Her contemporaries – Poonam Pandey and Rosyln Khan – started taking potshots at her. Sherlyn became the talk of the town and her acting career got a much needed push. She was hired to be the steam in Kamasutra 3D and made even more noise by walking out of it and getting sued for her behaviour post that. All of which made headlines.
So even if her Playboy cover isn't going to be released, why would Sherlyn talk about it? If her next film Kamasutra 3D fails at the box office, she can always fall back on her controversial battle with its director Rupesh Paul, hai na? And if that fades with time, that elusive Playboy cover can do the trick to get her back into the news!