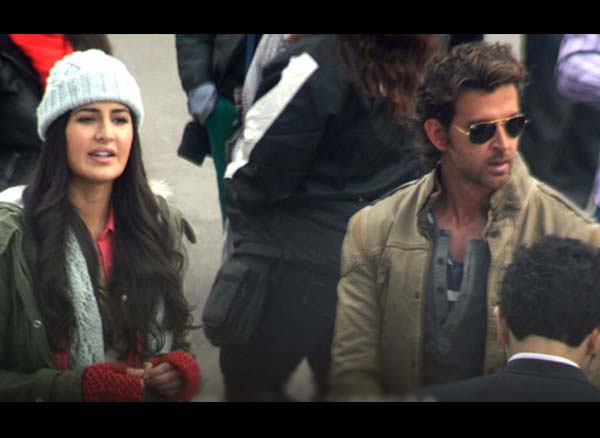 The Bang Bang jodi shot a high-action sequence in the capital city that led to confusion and chaos
Mumbaikars are very casual and relaxed when it comes to celeb spotting. After all, if you stay in the island city it's not a great deal for you to spot Bollywoodwallas in a mall or bump into them at a swishy spa around the corner. Sadly, the same can't be said about the folks in the capital. Naturally Delhites go absolutely bonkers when they see a celeb or two in their neighborhoods.
So when Katrina Kaif and Hrithik Roshan were shooting at east Delhi recently, next to a metro station, there were star-struck people trying to get a glimpse of the stars adding to an already chaotic situation. We hear the area where the shoot was on was cordoned off for most part of the Sunday. There were traffic diversions that ultimately resulted into a horrific traffic condition.
The cast and the crew of Bang Bang were seen with film equipment, food stalls and water dispensers were placed right in the middle of the street at Mayur Vihar. The film unit had an official permission to shoot in the area and even a police protection was offered to the makers. But eventually it led to an utter chaos and unending traffic snarls in the city. We hope the result of all this pandemonium will be worth the challenges both the Bang Bang unit and civic authorities faced.
The movie Bang Bang is the official remake of Cameron Diaz and Tom Cruise starrer, Knight And Day.