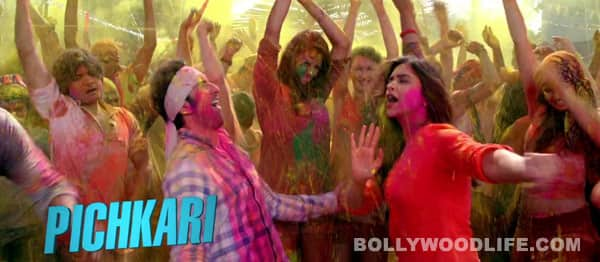 Watch the Holi song from Ayan Mukerji's Yeh Jawaani Hai Deewani and you will understand the logic!
The song Balam pichkari featuring Ranbir Kapoor and Deepika Padukone glorifies the festival of colours and the ex-lovers sizzle on screen after a long time, getting high on bhaang, love and amusing lyrics. Naturally, Deepika has no clue why she's enjoying so much and why all of a sudden the fun and excitement has amplified. Only when her balam (lover) aka Ranbir splashes gulaal and water on her, she realises that she's intoxicated with all happiness and bliss. Confused? Read the funny translation of the lyrics of Balam pichkari and tell us if you understand the logic!
Itna mazaa kyun aa raha hai
Tune hawa mein bhaang milaya
Dugna nasha kyun ho raha hai
Aankhon se meetha tune khilaya
So much enjoyment why coming
You air in bhaang mix
Double intoxicated why happening
From eyes sweet you feed
Ho teri malmal ki kurti gulaabi ho gayi
Mannchali chaal kaise nawaabi ho gayi, toh?
Oh yours velvet's kurti rosy happened
Naughty walk how royal happened, so?
Balam pichkari jo tune mujhe maari
Toh seedhi saadi chhori sharaabi ho gayi
Haa jeans pahenke jo tune maara thumka
Toh lattoo padosan ki bhabhi ho gayi
Lover sprayer when you me hit
Then straight simple girl alcoholic happened
Yes jeans wore when you hit thumka
Then drool neighbor's sister-in-law happened 
Wonder how this foot-tapping number will sound if we translate it into Marathi or Gujarati!!