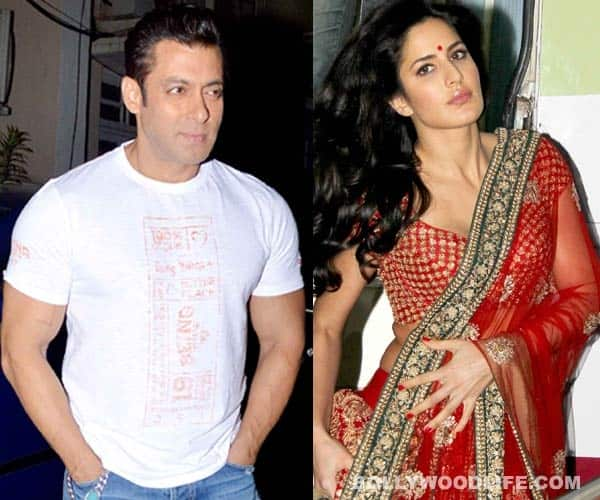 They Dhoom:3 babe and Jai Ho star might have broken up, but their friendship continues
Salman Khan is certainly over Katrina Kaif. The Jai Ho actor recently bumped into his ex-lover at Bandra's famous Mehboob studio in Bandra, and guess what they did?Sallu-Kat exchanged a warm hug and didn't mind chatting up with each other, even if it was for just fifteen minutes. Salman had in an earlier interview said that Katrina and he are friends and will always be friends. Well, looks like this Dabangg Khan is staying true to his words.
While Katrina might not be a familiar fixture at his parties anymore, she still continues to maintain a cordial relationship with her ex-beau and his family. There were rumours suggesting that Kat was no longer in the invitees list for his family gatherings, but Ms Kaif put all these talks to rest when she made a quite appearance at the Ganeshotsav celebrations at his Galaxy apartment, along with a whole lot of Sallu's other heroines. There was also buzz about how Arbaaz had replaced Katrina with Sonam Kapoor in his upcoming production venture, but that hasn't affected Salman and Katrina's rapport.
In fact, Salman even talked to a leading news daily about his brief interaction with Katrina. He said, "She used to be a friend, but today she is somebody else's friend. I respect that and I stay away because I don't want to give someone a reason to tell her, 'Oh you are still in touch with Salman.' The past should not intrude in the present." How thoughtful of the Kick actor, na?
When he was further quizzed about attending Katrina's wedding, he said, "If I am invited, I will." Well, this is certainly a changed Salman Khan. And we totally like him. So, now we know that Katrina can have a starry guest list at her wedding; though, we don't know if  Ranbir Kapoor will be okay, hai na?