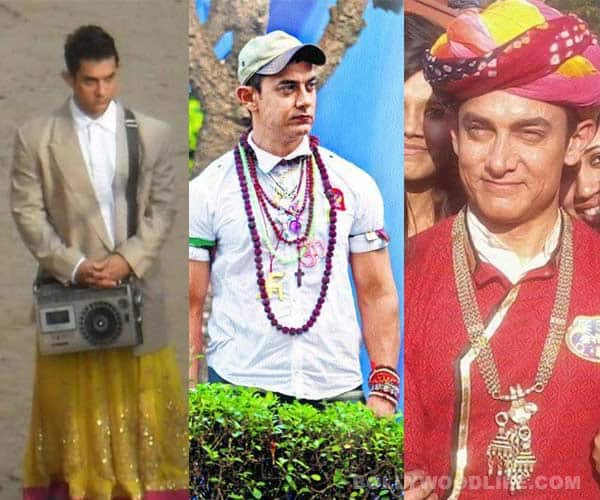 When Mr Perfectionist was spotted roaming around in an ajeebo-gareeb avatar with a transistor hanging around his neck, speculations were rife about the hatke character the shorty is playing in Rajkumar Hirani's P.K. And now with these fresh pics out, we are more curious to know what the movie is all about, aren't you?
Aamir Khan is known to surprise his fans with the kind of roles he plays. In a career spanning over two decades, Aamir has entertained us with the kind of movies he's done. Given his carefully crafted Mr Perfectionist image, Aamir doesn't do anything unless he is kicked about the script. This time, the 48-year-old star all set to serve something really different in his forthcoming movie P.K. directed by Rajkumar Hirani. The movie will star Anushka Sharma opposite the megastar.
We had spotted Aamir shooting for the film in his strange avatar. Wearing some strange clothes, a beaded neck-piece hanging around his neck and lipstick smeared on his lips, Aamir only heightened the curiosity about the role and the plot. And here are the new pics showing Aamir having a blast with Hirani as the two discuss about the film. Taking some time off, the Khan dude was also spotted taking pictures with his fans on the set of the movie.
P.K. was also in the news recently. Apparently, a unit director of the film was arrested for hurting religious sentiments during the shooting of a scene for the film! A film crew member was arrested and a case was registered against him after the locals objected to a scene in which a man dressed as Lord Shiva was pulling a rickshaw in which two burqa-clad women were sitting.
Initially, people thought the actors were members of ramleela but on seeing cameras, they inquired about the issue. The actors told police that it was a dream sequence of the movie and they had all the legal documents and permissions for the shoot.
Now going by this instance, we can infer that the movie has a curious combination of nautanki, ramleela and aliens? No that would be too early to jump the gun. You don't worry, take a look at these new stills while we try to find out what Raj Kumar Hirani's closely-guarded P.K. is all about.