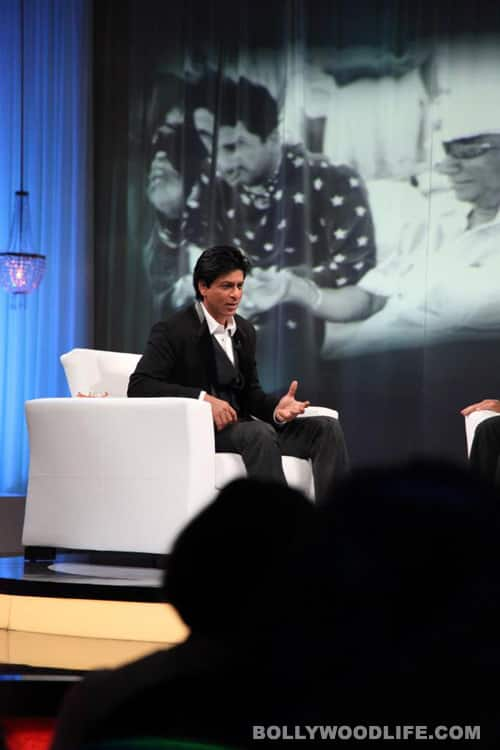 skip advertisement
The DDLJ director presented his father with the bound script of Jab Tak Hai Jaan, which is the last film that the veteran filmmaker will direct, he says
Legendary filmmaker Yash Chopra turned 80 yesterday and to mark the occasion he had a chat with his favourite star, Shahrukh Khan. The conversation was streamed live on the Net and fans all over the world tuned in. Chopra Sr shared gems from his eclectic journey – how his family wanted him to pursue a career in engineering, how much fun he had while shooting Kabhi Kabhie, how he teamed Amitabh Bachchan, Rekha and Jaya Bachchan together in Silsila and much more. And it was great fun to hear the veteran director take a dig at Shahrukh not showing up on time for film shoots.
The defining moment of the conversation was when Mr Chopra announced that his SRK-Katrina Kaif-Anushka Sharma starrer Jab Tak Hai Jaan would be the last film he would direct. We felt almost as sad as King Khan seemed to be on hearing this. The satisfied director said, "I felt an urge to make a film after a long time and I told Adi (Aditya Chopra) about it. He gave me the script, screenplay and dialogues of Jab Tak Hai Jaan. I am immensely satisfied with the film and this will be my last as a director."
As Shahrukh said during the chat, it was a 'happily sad' moment for us too, and we wish the veteran director all the best for his Diwali release.
ALSO READ: Will Yash Chopra stand by Lata Mangeshkar during her troubled times?