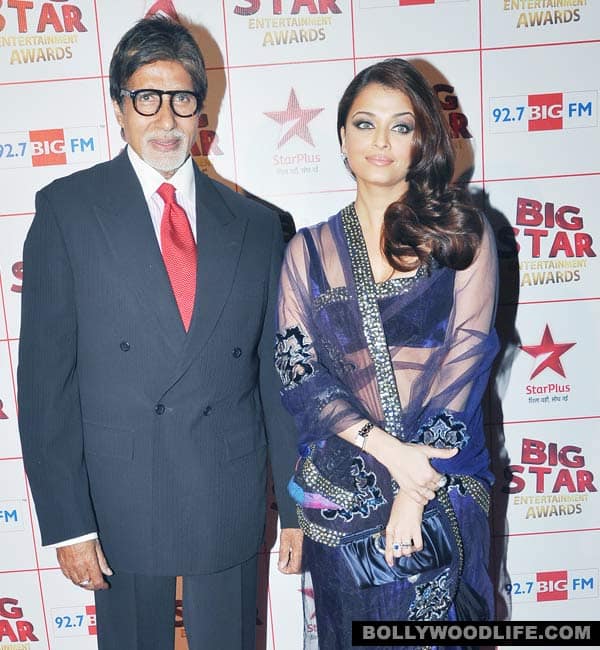 Amitabh Bachchan, who turns 70 tomorrow couldn't stop thanking his family, especially his better-half Jaya, as she has planned to make his b'day bash a grand affair. But is the Shahenshah also aware of the hard work his dearest bahu Aishwarya has put into to make the event a success?
Amitabh Bachchan is the only actor who believes in and is known for doing what nobody dares to do…celebrating getting older, or should we say, younger? For the last few years, Big B couldn't celebrate his birthday either because of personal family losses or his own health issues, but turning 70 is not just the only reason this time. After all, it's his first birthday bash after his granddaughter Aaradhya's arrival. Also, the fact that the proud grandfather has more films in his kitty than some of today's actors certainly makes it more special.
By now everyone knows the bash for the 'Big birthday boy' will be held at his close friend Anil Ambani's newly constructed Reliance MediaWorks at Film City in Mumbai, with Indian style naach-gaana and delicious, mouth-watering dishes. The arrangements began a month ago under the close supervision of wifey Jaya Bachchan. "The house is filled with activity; family does so much, it is difficult to even think of how to thank them … happiness always. I am so overwhelmed with the affection and love that I do not have sufficient words to reciprocate. I hold it all close to my heart," Big B tweeted yesterday.
In our exclusive interview with the actor, he modestly admitted that some activity is happening for his big day, but that he doesn't have any knowledge about it (maybe because he wants to savour all the surprise elements!).
But this morning, our wafadaar birdie who's keeping a close eye on the happenings at the Bachchan household, called us to give us some exclusive and privileged information. Pata hai, it's not only Jaya Bachchan but even bahu Aishwarya Rai Bachchan who's taking active interest to make sure her Paa-in-law has the best birthday this year. Ash has personally invited some industry folks and her close associates for the celebration, and even forced them (pyaar se) to turn up at the event without fail. We wonder who wouldn't be interested….
Guess what, we do know a few actors on the guest list, but you know, we don't take names! What we do generally is wish people good. So we just hope the party which has been planned for weeks in advance lives up to the expectations of the Bachchans and the invitees. We are eagerly looking forward to reading the birthday boy's tweets post celebration! What say?