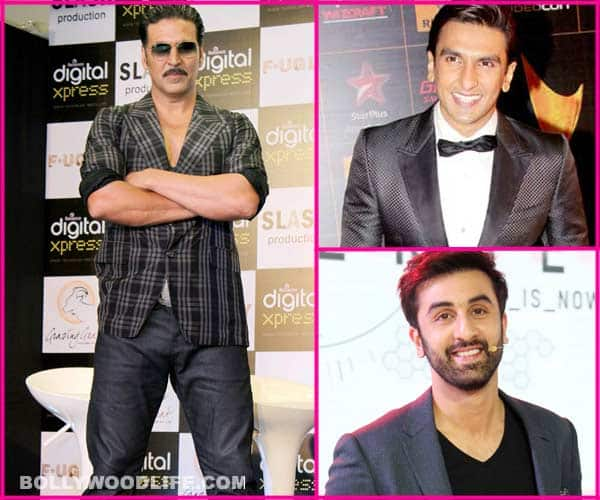 The 46-year-old feels that the fresh crop of actors are very talented
Bollywood actor Akshay Kumar feels that the B-town heartthrobs Ranbir Kapoor and Ranveer Singh are the next superstars of the film industry.
"I think Ranbir Kapoor, Ranveer Singh and others are doing well. In my eyes, they are next superstars," Akshay said at the trailer launch of his forthcoming home production called 'Fugly'.
Akshay feels newcomers on Tuesday do not need support of superstars like him to get into the industry. "When we came as newcomers we needed support but on Tuesday's newcomers don't need it… they are fit, good, mentally balanced, and professionally better than us. They know what they want or don't want," he said.
"The way they are going is good. There is no need to teach them… they have knowledge about everything. I think they need support of their family (than us)," he added. In 'Fugly', the actor is launching newcomers including Olympic medal winner boxer Vijender Singh and Anil Kapoor's nephew Mohit Marwah.
When asked if he has taken a risk by casting newcomers in the film, Akshay said, "in every film there is a risk whether I act in films or the films that I produce. I am confident about the film." Fugly is helmed by Kabir Sadanand.