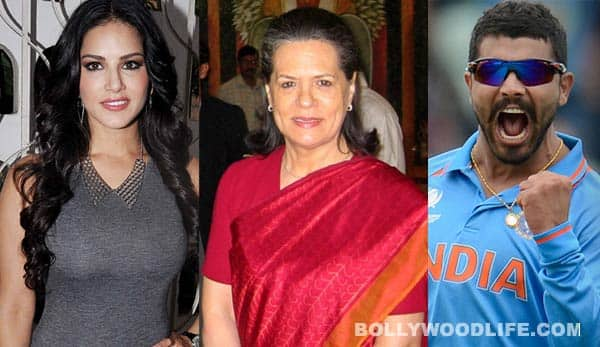 Can you point out any similarity between the former adult actor and Sonia Gandhi. We can't. But someone else has. Read on to find out…
Chennai Super King's star cricketer Ravindra Jadeja's cricketing career is promising and bright. Unfortunately, this role model for youngsters had a not-so-bright moment on the microblogging website, Twitter when he tweeted, "Sonia Gandhi talking about "Bhartiyata" and "Hindustaniyat" is like Sunny Leone talking about "Celibacy" and "Virginity".(sic) This startling tweet came right after the first offensive tweet he posted wherein he mocked Pakistan's ability to talk peace.
Now we are all for freedom of speech and expression but a youth role-model like Jadeja needs to tread carefully. His blatantly distasteful tweet stereotyped the Ragini MMS 2 actor because he insensitively made a cheap remark about her character. We know that Sunny Leone, who prior making it big in Bollywood was an adult film actor, recently demanded to discover more in herself in terms of acting. She expressed her desire to leave behind her past and look ahead toward success in Bollywood.
We believe that comments from someone like Jadeja can be damaging for Leone. She is already typecast as a raunchy babe who is willing to bare it all shamelessly onscreen. Perhaps Jadeja couldn't gauge how his demeaning opinion could influence the attitudes of a million fans.
Jeez! You have been knighted by the internet peeps, Ravindra! Stop giving us reasons to laugh at you piteously and show some respect for the honor this country bestowed upon you!