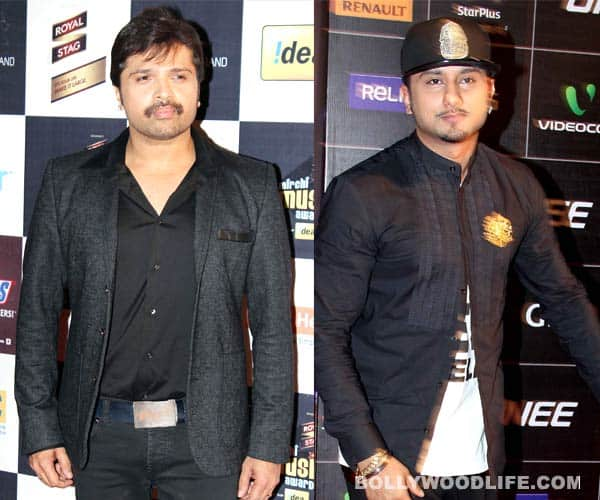 The story of the film has somehow gotten leaked and we bring you, the story, which brings together two of the biggest crowd pullers in B-Town
Himesh Reshammiya and Yo Yo Honey Singh are all set to share screen space together for The Xpose. The story revolves around a sudden death which takes place at a five star hotel right after a gltizy award function. This incident proves to be a trigger for the film's narrator, Alec D'Costa, played by Irrfan Khan, to come forward and expose the darker side of the Hindi film industry. The narrator is all charged up to unmask its larger-than-life superstars and divulge their secrets.
Himesh, who plays Ravi Kumar, lost about 20 kg to suit the character in the film. He has been through a year of organic dieting and workouts. Ravi is a former cop who has been thrown out of the police force because of an accidental death in custody. By some turn of fate Ravi gets a break in films and goes on to become a charismatic and enigmatic star. The character somehow has an uncanny resemblance to yesteryear superstar Raaj Kumar.
Also the two leading ladies of the film, Zoya Afroz and Sonali Raut, are playing characters which are inspired from the real life of Parveen Babi and Zeenat Aman respectively. The characters are called Chandni and Zara. Their roles are tailor made to look like both, Chandni and Zara, broke away from the regular screen image of a quintessential  heroine, and made a mark as a sex symbol in Bollywood. The rivalry between the two resulted in various catfights, including one at a suburban city hotel where the two almost decided to settle it out by handing out punches to each other. This real life incident and many other such moments from Parveen and Zeenat's lives have made their way into the film's script.
Our very own Yo Yo Honey Singh who plays the role of Kenny Damania is also a part of the film.  His character is that of a suave villain with shades taken from the roles played by B-town's most iconic villain, Pran. Also, Aadil Hussain play the role of Rajan Anna and his role seems to have drawn inspiration from underworld don Vardha Rajan. Director Ananth Narayan Mahadevan is firm on his belief of making such a film which shows the yesteryears of Bollywood and also discloses its darkest secrets. Talking to a leading daily he says, "The '60s was the most glamorous, sensational and musical era in Hindi cinema with stars who were the stuff legends are made of."
Himesh and Honey are huge crowd pullers on their own and when they come together it will be great to see the turn out of the masses in the theatres. The plot looks interesting to us. Now only time will tell whether the lead actors are able to execute the mystery-laden story properly or not. Hai na peeps?