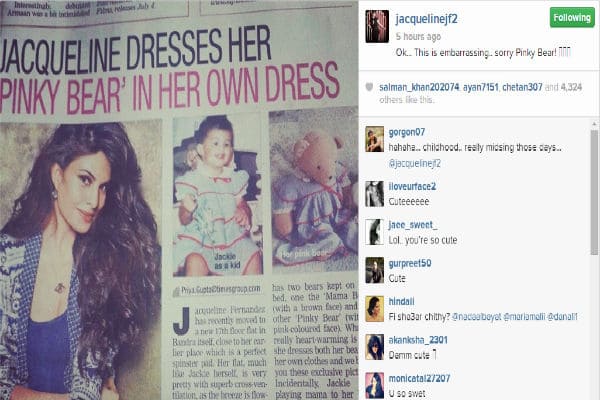 A recent revelation has left the actor red-faced
When a popular daily recently exposed Jacqueline Fernandez's secret, the actor was left flushed with embarrassment! No, we aren't talking about any alleged link-up here we are simply referring to Jacqueline's pinky bear and its news embarrassing the Kick actor.
The Sri Lankan beauty recently moved her new airy home in Bandra with two of her mates- Mama bear and Pinky bear. If you think that's how Jackie refers to her family then that is not the case. The actor has two stuffed animals who are precious to her and she keeps them in her bedroom. She even dresses them in her childhood clothes!
The actor was embarrassed when this information was let out in public and posted an Instagram update saying, "Ok…This is embarrassing…Sorry Pinky Bear!"
Well there is nothing to be ashamed of Jacqueline coz we are all for keeping the child in you alive, hai na Bollywoodlifers?