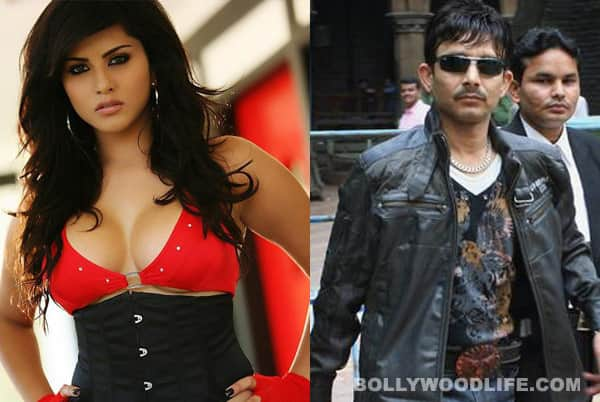 This is not the first time that KRK has been defaming the former porn star…
Kamaal R Khan has time and again tried to defame female actors via his twitter account and Sunny Leone has been one of his favourites. His tweets led us to ask you as to whether he should be arrested for the same and fans reverted by saying that he should be arrested but all of this doesn't seem to stop KRK from doing whatever he feels like. Now even the sexy Sunny Leone has started to notice and has moved ahead and registered a police complaint on the same.
A leading daily reported that the sexy Sunny Leone is asking police to take strict action against Kamaal after he allegedly offered her money over twitter to perform a strip show at Digvijay Singh's wedding. KRK has agreed to pay one crore just to see Sunny Leone strip. Khan had tweeted, "I request to Digvijay Singh Ji to have a strip show of Sunny Leone in the function of his marriage and I will pay Rs 1 crore to the Congress party fund."
A little birdie informs us that Sunny Leone's lawyer Rizwan Siddiquee is going to file a fresh complaint against Kamaal R Khan. If we recall there is one previous complaint against Khan filed by the sexy Sunny Leone's lawyer, but he seems to have paid no heed to it and also the police seems to be negligent towards him. In February 2013, the sexy Sunny Leone had complained at the Cyber Crime Investigation Cell of Mumbai Police against KRK, when he had falsely attributed controversial comments on his twitter account about her. KRK had posted, "Yeh lo…Sunny Leone says, 'Rape is not a crime; it's just surprise sex.'
Now only time will tell as to whether the police take any serious action against KRK or not, because all Sunny Leone fans sure want him behind the bars. Hai na peeps?