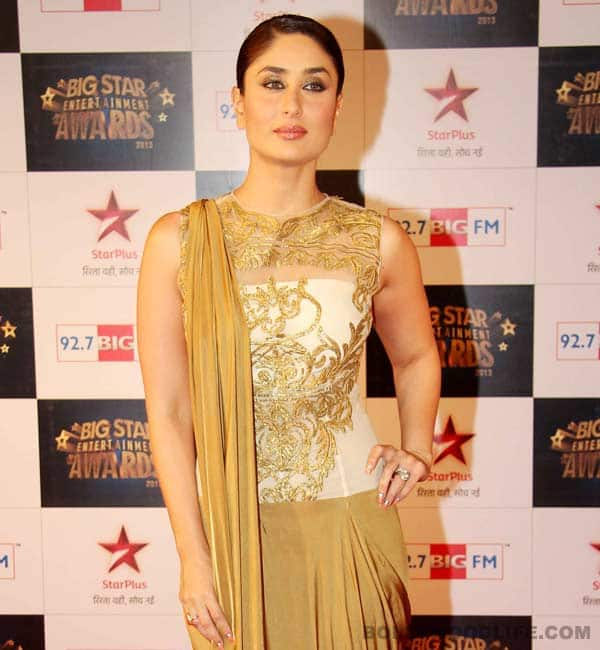 Lack of work in Bollywood has pushed the begum of Pataudi to take an alternate job. Read on to know what…
Kareena Kapoor Khan is all set to take up a new profession and buzz is that it is all because of her lack of assignments from Bollywood. The once considered queen of B-Town hardly has any assignments under her belt these days and thus has decided to turn to a different profession, maybe something inside the Pataudi mansion. You guessed it right! KKK has taken the reigns of redesigning and restoring the Pataudi palace along with her mother-in-law Sharmila Tagore.
Our khabroos inform us that she is going to team up with her mum-in-law Sharmila Tagore to refurnish the 10-bedroom Pataudi palace to their taste. A source said, "Kareena is quite enthusiastic about working to restore the Pataudi palace to its former glory and both Kareena and Sharmila are taking a keen interest in the project." Kareena recently spent two days in Pataudi with Sharmila for the 'palace project' before flying off to Bucharest in Romania for an ad shoot, post which, she came back for the Singham 2 shoot.
Sources inform that the begum of Pataudi has taken her royal duties quite seriously, but wethinks it is simply lack of work that is pushing KKK to take up some homely jobs so as to while away her free time. At present Kareena has just Singham 2 in hand and some ad shoots here and there. We feel bad for the heroine who once used to have a choc-a-bloc schedule has now been brought down to do household work. Although it is a good tradition for Indian women to decorate their houses but we never imagined the hot and fiesty Bebo to be doing so. It is, however, good to see her in this avatar and we hope to see her in some more movies asap. What do you think BollywoodLifers?