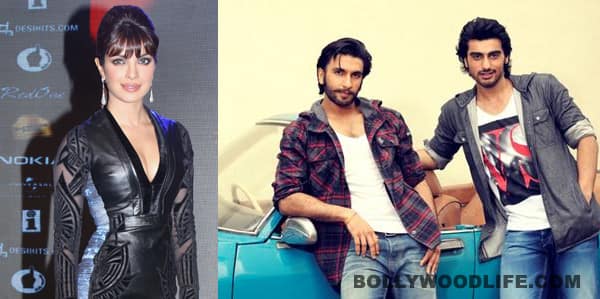 Ending all speculation, Priyanka Chopra's next project will be a period crime drama opposite two rowdy young actors. Doing what? We tell you…
Priyanka Chopra has finally managed to bag her second project with the prestigious Yash Raj Films banner in the shape of the 2013 film Gunday starring Arjun Kapoor and Ranveer Singh. The role is supposedly acting-oriented, and director Ali Abbas Zafar of Mere Brother Ki Dulhan fame wanted a girl who was not only a pretty face, but a damn good actor too! Which is why we guess Katrina Kaif, Nargis Fakhri and Jacqueline Fernandez could not make the cut.
But the question remains: What is Priyanka doing in the film? Gunday, which is a period drama set in Calcutta in the '70s, tells the story of Bikram and Bala, two small time wagon breakers and coal thieves who become the biggest black market mafia figures in the city. Director Ali Abbas Zafar said that although Priyanka plays a pivotal role in the film, there is no love triangle involving the three. So what is she doing then? Is she playing a mafia gangster herself, which is why the director wanted a good actor who is believable as one?
Let us know what you see Priyanka doing in this toughie, BollywoodLifers. Hang on and let us think about it too….