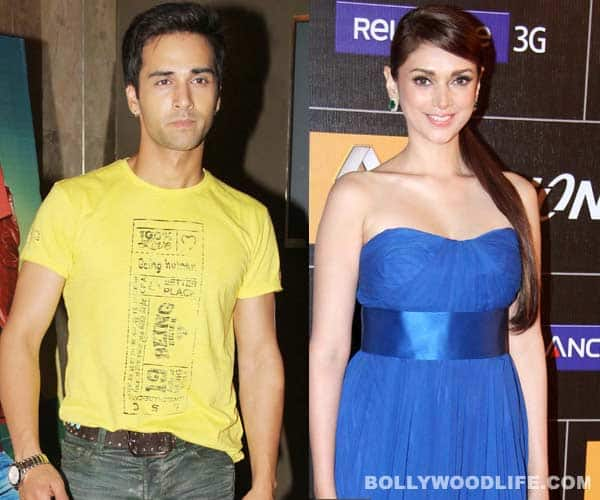 Here is another Bollywood film on Bollywood itself. Read on to know what it's all about
Movies on Bollywood have been made time and again. Zoya Akhtar made an impressive Luck By Chance and Ken Ghosh's Chance Pe Dance was booed by the audiences and critics alike. The common factor in both these films was that, neither of them made money at the box-office. But that somehow is not bothering Eros International at all, as the ace production house is all set to make a film on Bollywood once again. Grapevine has it that the movie, tentatively titled Ticket To Bollywood, will feature Pulkit Samrat and Aditi Rao Hydari along with Shahzahn Padamsee. So what will be different in this film? 
Our little birdies inform us that this film will be more on the lines of how the scenario of the Hindi Film industry has changed over the years and it will not be hard hitting like Farhan Akhtar's film. The film will also embark on the current state of affairs of the Hindi film industry and how things have changed after the arrival of the studio system.
The film will be directed by debutante Vicky Bahri, who has previously produced films like Break Ke Baad and Teri Meri Kahaani. Talking to a leading daily, a source from the production house informed, "The film revolves around a director who is past his prime, yet keeps announcing big-ticket projects which never go on the floors. Since nobody wants to work with him, he starts a contest in London, Ticket to Bollywood, to get a cast." Director Bahri also confirmed the development to the leading daily saying, "We roll in the last week of April. Pulkit is playing a shady actor from the North who's known for films like Gorakhpur ka Ghajini and Patiala ka Superman, while Aditi plays a sophisticated girl from London. Both want to make it big in Bollywood and so enter the contest." When asked about whom the director's character is modelled on, Bahri jokingly informed the daily, "Saurabh Shukla plays the director who has only been announcing films. He has a weakness for alcohol. Who's he modelled on? Your guess is as good as mine."
Now only time will tell as to how this drama based on B-Town itself will pan out. We hope to see a good film and not duds like Luck By Chance and Chance Pe Dance. Hai na, peeps?