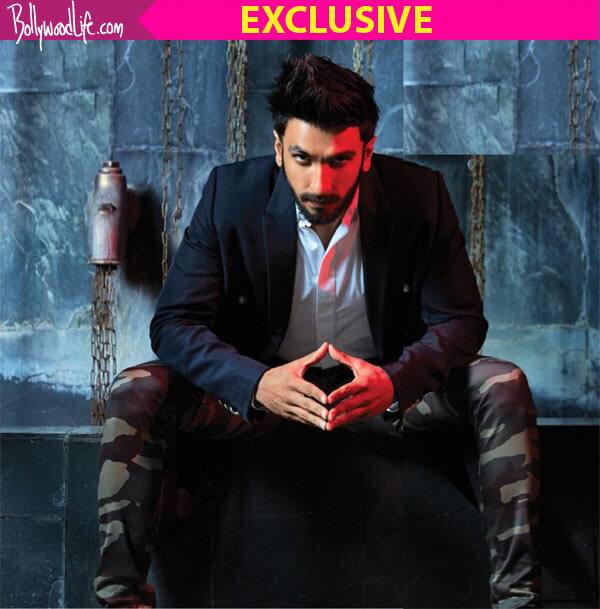 Ranveer Singh has a special name on the sets of Padmavati
Now that Sanjay Leela Bhansali's Padmavati has finally gone on floors, BollywoodLife HAS to be your one-stop destination for the inside scoop and on all that's been happening on the sets. For starters, let me ask you.. Do you know what Ranveer Singh is being called on the sets of Padmavati? Any guesses? Well, our sources reveal that some people on the sets have already started calling Ranveer 'Khilji'! How cool is that? For all those who don't know, Ranveer is playing the character of Allaudin Khilji in the movie and some of the crew members have started calling him by his character name. Why? Well, Mr Singh is just so effortless with what he does and what he wears and considering that, he has gone into the skin of the character so easily. He is a charming man anyway but he's taken his character way too seriously and every time he comes on the sets some people just can't help but call him Khilji. Now this in itself is a big deal! (ALSO READ: Shahid Kapoor already INSECURE of Ranveer Singh and Deepika Padukone while filming Padmavati?)
The film has already completed a month's schedule with Ranveer and Deepika. And now Shahid Kapoor too has joined them on the sets of Padmavati. History is proof that Sanjay Leela Bhansali is a visionary and he has an eye for perfection. His thoughts are well reflected in his films, take for instance his last film Bajirao Mastani. It turned out to be one of the best films of 2015 not just storywise but also the costumes, the sets and everything else about the film was much appreciated.
Coming back to Padmavati, they have just wrapped up the Ghoomar shoot which has Deepika wearing a typical Rajasthani lehenga. The entire set for the song took around 40 days to erect, with over a hundred people involved in the setup. The set has been inspired by actual references of areas inside the fort and the textures and colours have been referenced in detail too. Deepika took over a month-and-a-half to learn this dance form that has been long associated with royalty. She has been working hard to get the technicalities and footwork right for the Ghoomar number. (ALSO READ: Padmavati Deepika Padukone to dance amidst 400 lamps for a Ghoomar dance sequence in the film)
Sanjay Leela Bhansali's magnum opus Padmavati is based on Rani Padmavati of Chittor who preferred to end her life with Jauhar rather than giving in to the demands of Alauddin Khilji. The Queen was known for her legendary beauty and poet Mallik Mohammad Jayasi had also composed sonnets in her name. She was the second queen of Rawal Ratan Singh. The role of the Rajput emperor will be played by Shahid in the film. Padmavati is slated to release in 2017.
Deepika Padukone refused to work with Vicky Kaushal

Deepika did not want to work with lesser known starts and not even Vicky Kaushal whom Sanjay wanted to cast.

Image credit: Facebook

Ranveer Singh's tiff with Sanjay Leela Bhansali over a role

Ranveer was double minded when Sanjay gave Deepika's husband's role to Shahid.

Image credit: Instagram

Deepika Padukone's hefty signing amount

It is reported that Deepika has been paid Rs 11 crores for the movie even more than Ranveer who was paid 7-8 crores.

Image credit: Instagram

Shahid Kapoor demanded a meaty role with a hefty pay check for the movie

After Deepika, Sanjay had to deal with Shahid's demands for role and money for the movie.

Image credit: Instagram

Ranveer Singh dodged a question on Padmavati during his rift with Bhansali

While his rift with Bhansali was on he skipped a question asked on Padmavati during an event and rather complimented SLB for his smile.

Image credit: Facebook

Ranveer Singh and Deepika Padukone's reunion

Of course, once again we will be getting to see most popular and romantic couple of B-town together.

Image credit: Twitter