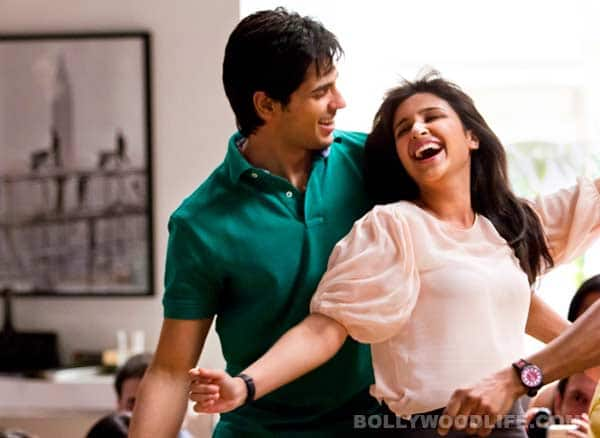 Karan Johar and Anurag Kashyap's next production has an interesting never before told story. Read on to find out…
Ever since we saw the first trailer of Hasee Toh Phasee starring Parineeti Chopra and Sidharth Malhotra, we have been trying to join the dots from whatever little we saw. While Karan Johar had declared that the film isn't a romcom but a coming-of-age film of two people, their journey and the manner in which their paths meet.
Well, this wasn't enough for us. Our secret khabroo who was present while shooting HTP told us, the film is about the relationship between the quirky, rebellious Meeta (Parineeti), and the mischievous Nikhil (Sidharth) struggling with their respective families to fit in. The film traces the journey of these characters in a span of ten years in Mumbai. Nikhil first bumps into Meeta when her sister Deeksha is getting married and Meeta is on the run. On the same day, Nikhil falls in love with Meeta's sister Karishma. The film then jumps to the eve of Nikhil and Karishma's engagement. Since Nikhil is a laid back young guy, Karishma's wealthy father, Devesh Solanki, does not approve of Nikhil. On the day of Karishma and Nikhil's engagement, Nikhil promises Karishma that he will prove himself to be worthy of her within the next seven days.
Following this, Nikhil is re-introduced to Meeta by Karishma. Nikhil is then asked to put her up in a hotel. Nikhil recognises Meeta and recollects about the first time they met. To win Karishma, Nikhil keeps Meeta in the flat above his own house, with his crazy extended family. During the course of Meeta's stay at Nikhil's house, they come close to each other and open up to each other. In between all of this, the importance of relationships in unfolded and tested.
Well, we are certainly interested watch the Shuddh Desi Romance actor and the Student Of The Year actor unfold the story the heart warming story.  What about you Bollywoodlifers?