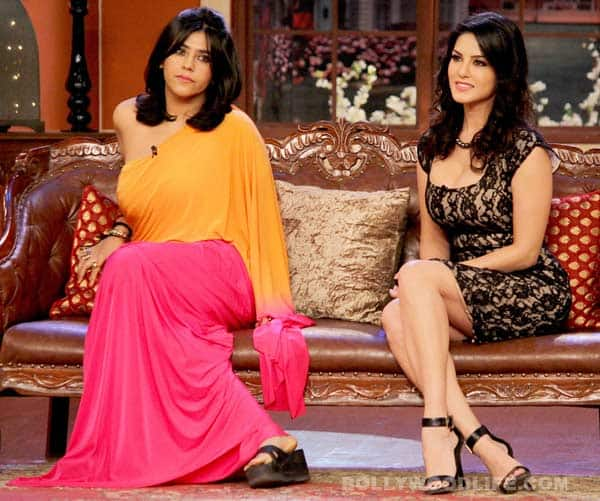 The porn star turned actor will be making some confessions when she will share the couch with the Balaji head honcho. Read on to find out more…
Sunny Leone, who is celebrating the success of her latest horrex film, Ragini MMS 2 is all set to take her sexy presence on Karan Johar"s popular chat show, Koffee with Karan. Yes, if the recent reports are anything to go by then the former porn star will be sipping some steaming cups of coffee along with Ekta Kapoor in the finale episode of KJo's celebrity chit-chat show.
Well, if the rumours are indeed true then it's clear that Mr Johar's close friend Shahrukh Khan, who has been regular with his appearances on KWK right from the first season, won't be gracing the talk show, which is currently in its fourth season. And the reason behind King Khan's absence is apparently his non availability of time to shoot the episode.However, wethinks it's the sweet gone bitter relationship between Karan and Shahrukh the actual reason behind all this. Possible, hai na?
Anyway, KWK is going to conclude with only two episodes remaining to be aired. While the coming episode would see Alia Bhatt and Parineeti Chopra, the last one would reportedly have sexy Sunny Leone and Ekta Kapoor on that controversial couch.
While it's quite unfortunate that we won't  get to watch SRK's candid talks with KJo this season, but we surely are excited to watch sexy Sunny Leone's debut act on KWK. It will indeed be steaming hot coffee session absolutely worth watching and quite worthy of the finale. Don't you agree with us, peeps?