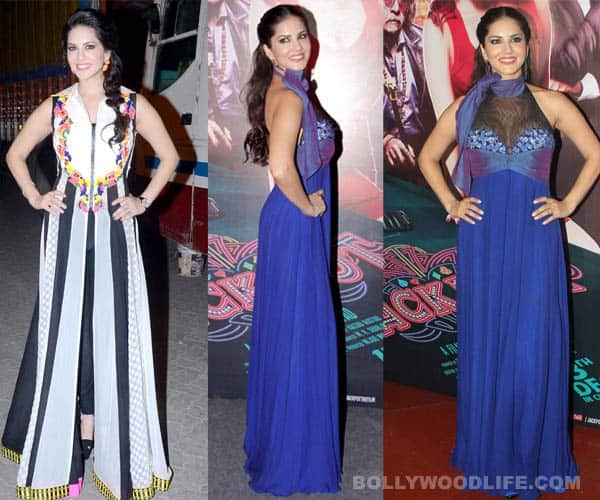 The trailer and music of Sunny's next film Jackpot were recently launched and the actor's appearances kinda surprised us
Sunny Leone's next film Jackpot is a fast paced thriller con. Well, if there's any reason why people are awaiting to watch the film, it's certainly not for Sachiin Joshi and Leone's chemistry but more so for the adult star's big screen appearance. Sunny was earlier popular for skin show and was even a part of Jism 2, an erotic thriller. So, we were shocked more than surprised with her appearances at the trailer and music launch of her upcoming film, Jackpot. Sunny has been a bit too covered up for the events.
At the trailer launch, Sunny was seen in a long blue gown. With a choker neckline and sheer fabric on the front, the gown made her look too boring. Though it was backless, Leone certainly wasn't at her sexiest best in this one. Moving on to Sunny at the music launch of Jackpot, where she was spotted in a black and white zipped up ensemble. Her outfit had a rather long slit on the front, which gave you a sneak peek… but, she had teamed it with a pair of leggings much to everyone's dismay! The outfit had a lil colourful embroidery work on the front but that certainly didn't make her appearance appealing to the eyes. It's not only her colour choice that made her appearance lackluster but also her hairdo. With the side swept braid, was Sunny trying to look elegant? Well, we surely miss the wild n raunchy Sunny. Don't you?
So, is Sunny Leone going for an image makeover with Jackpot? While most actors opt for skin show to grab eyeballs, Leone seems to be doing the exact opposite. But, we are sure she won't look this bland in the film and this is just Sunny's attempt to create a mystery about her look in the film. Looks like she's trying to hide her look in the film, hai na? Fingers crossed! Wink, wink!