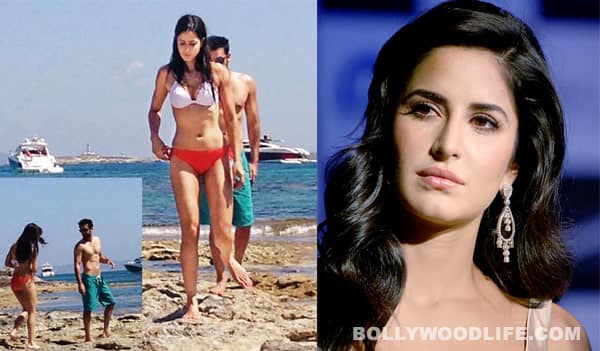 After she was spotted having a lot of 'fun' with alleged boyfriend Ranbir Kapoor on a relatively remote beach in Spain, there has been much brouhaha about Katrina's growing fondness for the Kapoor lad. But the leggy lass has a new worry – she feels that the famous bikini did not quite show off her features in the best possible way!
Deepika Padukone managed to tick off love-rival Katrina Kaif by offering a piece of advice and asking the quintessential Sheila to be careful (read: the next time she takes a hush-hush vacation with reported beau Ranbir Kapoor, that is!) in a recently held press conference. Katrina is now seriously fuming about that unsolicited bit of gyaan from her 'competitor'. One the one hand Kat's relationship with Ranboo has caught the fancy of the media and gossip-seeking fans, but on the other hand, what is even spicier is the latest concern that's troubling Kat's delicate mind.
When the bikini pictures were aired, there were even questions asked about whether Katrina herself leaked the photos to keep herself in the media focus, since arch rival Deepika was basking in the media glare for her movie Chennai Express at the time. Public attention  was equally dived between the SRK starrer and the Ranbir-Katrina vacation. But then a new concern took over KK's thoughts – the pictures didn't quite show her in the sexiest light possible. While Kat's tummy looked flat and fabulous, her legs are toned and her feet well pedicured, her curves had done a vanishing act. We hear that Ms K has said that her best features are not highlighted in those snapshots.
Now there is the fun part. Obviously, if Katrina had leaked those pics to the media as a publicity stunt, she would have at least worn a sexier bikini that highlighted her well-endowed body, wethinks. She could even have done a little….errr….image enhancement before her fans could start relishing the beauty frolicking in the sand with casanova Kapoor. And if she is now rather miffed about not having her best side on display instead of still fuming about the invasion of her privacy, we know that the initial rage has worn off and Kat is set to make her pyaar more visible, don't we? What do you think?