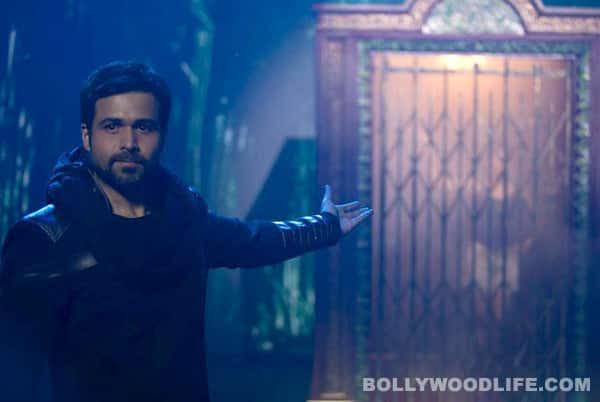 Does the witch really exist in Emraan Hashmi's life or is she just a figment of Emraan's hyperactive imagination?
Now here's a spoiler alert! Those who don't prefer to know the stories of the forthcoming films before their releases should not be tempted to read more than the first two lines of this post. But such is the curiosity about Ekta Kapoor's next horror release Ek Thi Daayan – starring Emraan Hashmi, Kalki Koechlin, Konkona Sen Sharma and Huma Qureshi in the lead roles – that we are confident that you will quickly scan through this post to satiate your irresistible urge to know what is Emraan's strangely titled horror flick all about.
From what we gather from our khoofiya jasoos who keeps a close watch on the latest happenings in Bollywood, Ek Thi Daayan is a very interesting story that attempts to blur the thin line between reality and fantasy. Bobo (Emraan Hashmi) plays India's top magician, a star. He gets hallucinations about his dead kid sister Misha for which he seeks psychiatric help in the form of the rather odd Dr Palit, who puts him under regression hypnosis to go back to the distant past to get a clue about this mystery. What he sees in the hypnotic state disturbs him. It reveals that when Bobo was 11 and his sister Misha was six, a supernatural power in the form of a daayan (witch) enters the scene and destroys Bobo's entire family, leaving him orphaned. Worse still, the daayan promises to return and haunt him forever.
And just when Bobo feels that his life has come back to normalcy and the star magician is happy with his wife Tamara and son Zubin, enters Lisa to disturb Bobo's mind. Though she looks perfectly normal, even lovely to everyone, Bobo's instinct tells him that the daayan is back. Nobody takes Bobo's gut feeling seriously, neither his wife nor his son or his friends. Even Dr Palit who has been a great help to Bobo dismisses his claims that Lisa is the daayan who has made her evil return.
Now Emraan's character is going through the biggest dilemma of his life. Has the witch returned to fulfill her promise or is Emraan's disturbed mind hallucinating, projecting his deep hidden fears and turning the innocuous Lisa into a blood thirsting daayan?