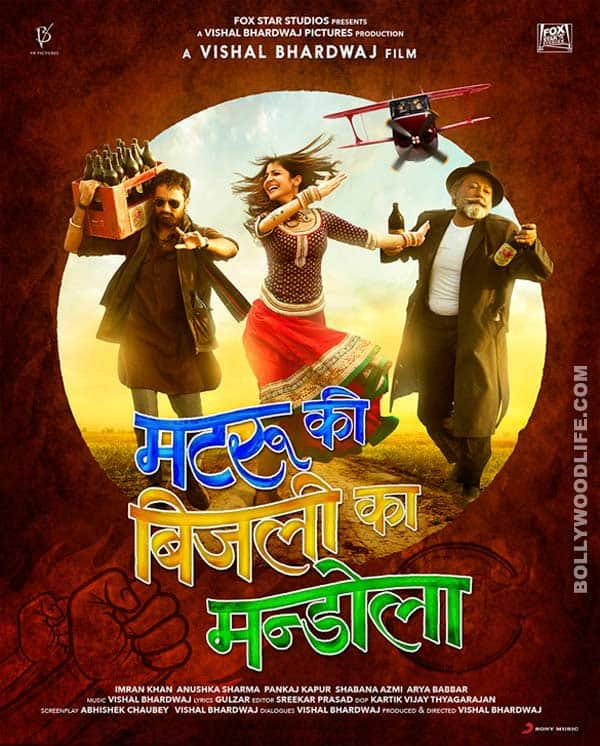 We know everything at BollywoodLife – including the story of the new movie starring, amazingly, the charismatic Gulabi Bhains! And yeah, there is also Imran Khan, Anushka Sharma and Pankaj Kapur. You want to know more?
Ever since Vishal Bhardwaj announced Matru Ki Bijlee Ka Mandola (MKBKM), it has intrigued everyone who is not associated with it. The film has a unique star cast – Imran Khan, Anushka Sharma and Pankaj Kapur – coming together for the first time. We wondered what Vishal was up to, especially after his last release Saat Khoon Maaf with the multi-faced Priyanka Chopra did not make BO magic. But after watching the first theatrical trailer of the maverick filmmaker's latest film, we know it will be worth the wait.
While the film's plotline is as ambiguous as its title, we dug around and discovered more about its story. It goes like this, according to what the makers told us: Set against the rustic backdrop of a village in Haryana, MKBKM is a comedy-drama about a rich industrialist Harry Mandola (Pankaj Kapur) who loves his drink, his daughter Bijlee (Anushka Sharma) and the unusual bond they both share with Harry's close associate, Matru (Imran Khan). Much to her father's delight, Bijlee is all set to marry Baadal (Aarya Babbar), the son of powerful politician Chaudhari Devi (Shabana Azmi). This alliance, which is far from being just a simple union of two young people, becomes the seed for a story that brings a series of bewildering twists and turns into the lives of Matru, Bijlee and Mandola.
Over the years, Vishal has successfully carved a niche for himself as a hatke filmmaker who's known for his fascination for the bizarre in stories and film titles. Consider Maqbool, The Blue Umbrella, Makdee, Kaminey, Saat Khoon Maaf and yes… Ek Thi Daayan! And we are sure MKBKM will only whet our appetites for more.