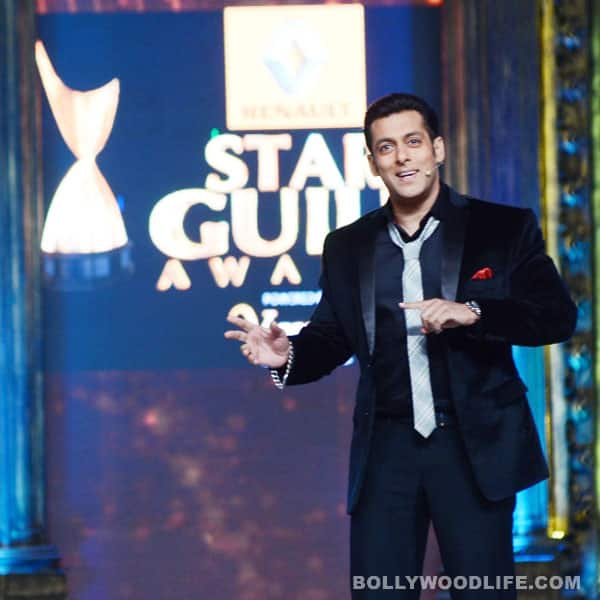 We've seen the Dabangg Khan deliver one kick-ass performance after another onstage. So why did compering scare him off-stage for so long? We gleefully speculate…
Admit it, your weekend evenings have been booked by one awards show after the other lately, given that their numbers have suspiciously shot up. And each show wants to amp up its TRPs and guest list by boasting about a smart gabru jawaan as a host. Right?
So guess Shahrukh Khan, Saif Ali Khan, Abhishek Bachchan, Riteish Deshmukh, Karan Johar, Chitrangda Singh and many more line up with their curriculum vitaes to fill hot-spots as the host in the (ever) growing list of awards shows. But one man – Salman Khan – has kept a respectable distance from it all.
Why? 'Coz more than two decades ago, when Maine Pyaar Kiya was a rage and Salman was coaxed on the stage, the cat got our beloved bhai's tongue. Ooops! What followed was a sheepish attempt to hide under the famous pigeon-centric movie's jacket while on a walk down to the podium. And that was what kept this supposedly Dabangg Khan away from the comperer's mike. Or so we are told by our buddy the birdie, who knew the kabootar in question very well.
But (and this is a significant but) the humiliation wasn't enough to keep Salman from wiggling his what-nots on the stage to entertain his fans. And of course, you cannot forget Dus ka Dum and Bigg Boss, can you? And all that's precisely what makes us wonder – were you really s**t scared to just….err….talk? Or was there another reason?
What could be THE other reason, you might ask. Shahrukh Khan, the ace host who makes it all look so easy-breezy perhaps? Maybe – and we're just thinking this aloud – Salman didn't want to give his favourite media a 786th reason to launch the yet another debate on who's better: Shahrukh or Salman.
Tell us, Sallu, was that the case? And now, after you've finally hosted your first show – Star Guild Awards 2013 – after 24 years, are you convinced that we don't enjoy such mindless comparisons?
Having said all that, we're truly happy that our Sallu has broken his no-hosting rule, 'coz that gives us a reason to hope that maybe the day isn't far off when we will see the reigning Khans – need we name them? Wink, wink – co-host an awards show together. Now that would be truly delightful, no? *Wicked grin*