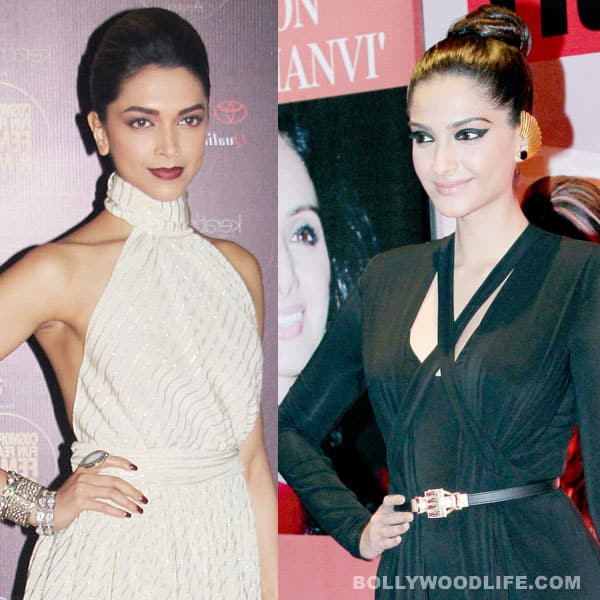 The media is abuzz with reports that the leggy lass has labeled SK as someone who's not in the same league as she is. Seems so unlike DP, wethinks. But why…what could be the reasons for this attitude? 
That's the reason Deepika Padukone has cited as per a source for not wanting to appear on the show, On the Couch with Koel (Purie-Rinchet). But that's one piece of news that's extremely difficult to digest, as Padukone is known for her politically correct behaviour. Yes, she gets carried away at times when she has someone like Sonam Kapoor to keep her company on la-di-da chat shows like Koffee With Karan, when her well-hidden wickedness comes to the fore, and that too quite effortlessly. We still remember how the two girls created such a verbal riot – from sneering at the mention of Ranbir Kapoor to resorting to some scandalous statements. The gorgeous duo also confessed to heading to a spa together one time; we wonder, to do what – maybe discuss RK and his devious love tricks and opt for a wonderful massage as an antidote to all that stress? But despite all that bonding, they call themselves mere acquaintances. But looks like they aren't even that any more, 'coz reportedly DP thinks SK doesn't belong to the same league as her.
Now if that's true, our question is, why does Padukone think so?
Deepika Padukone's style sense is as fabulous as Sonam Kapoor's vintage taste. The two have more often than not mesmerised us with breathtaking clothes. Both belong to the highest rung of the ladder when it comes to fashion. So this doesn't really seem a possibility.
Did DP hint at commercial success here? While Padukone's resume is brimming with movies opposite the A-listers of B-town (Chennai Express with Shahrukh Khan, Yeh Jawani Hai Deewani with Ranbir Kapoor, Ram Leela with Ranveer Singh, Kochadaiyaan with Rajinikanth), SK's 2013 movie list is restricted to just one or two films so far, the most notable being Bhaag Milkha Bhaag with Farhan Akhtar and Raanjhana with Dhanush.
Or is Padukone talking about looks? The two have a enviable height, flawless complexions, long legs, slim waists…we could go on. While SK has gorgeous raven hair, Padukone surprises us with her stylised mane at regular intervals of variation. We don't think she's referring to appearance either.
Maybe DP is pointing blatantly at the fact that she has made it big in the industry despite not belonging to a filmi family, while Sonam had it all given to her on her designer silver plate, along with a shiny li'l sliver spoon….
Deepika's 'whole league' funda sounds really vague and unlikely. We suggest the next time she or that 'source' plans to make such a comment, they get a tad more specific. We don't like this beating around the bush hogwash. We are sure you don't either!