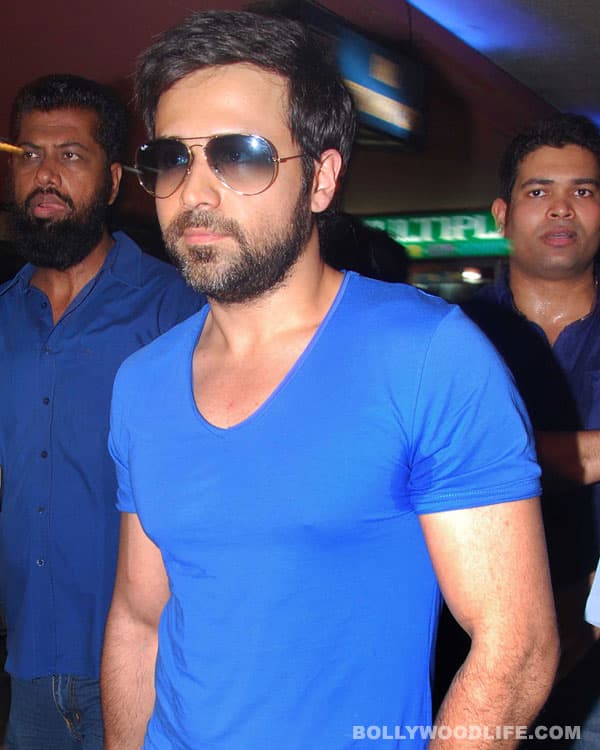 From being a kissie boy of B-town to an acting talent to reckon with, Emraan Hashmi has evolved tremendously in the 10 years of his showbiz career. But what has the poster boy of the Bhatt camp brought to the table while creating his own space in an industry?
Emraan Hashmi started his career 10 years back as the assistant director for Mukesh Bhatt's Raaz starring Bipasha Basu and Dino Morea. Never did Hashmi, then only 23, imagine that he would be in front of the camera one day. Today, after acting in more than 30 films Emraan finds himself in a space that is uniquely his own.
In 2003, Emran made his acting debut in Footpath. A year later he starred opposite Mallika Sherawat in Anurag Basu's sensational erotic thriller Murder. The film went on to become a big box office hit and Emraan got noticed for the innumerable kisses he shared with Mallika. The steamy content of the film made him the serial kisser and he had to live with that tag till recently.
He went on to do several films with the Bhatts thereafter – most of them hits – including Gangster, Raaz 2 and Jannat. But Hashmi got noticed as a serious actor only when he ventured outside the Bhatt camp and played the role based on Daud Ibrahim in the 2010 film Once Upon a time in Mumbaai. Recently, with his restrained performances in films like The Dirty Picture and Shanghai, the 33-year-old-actor has forced the industry to look at him as a talented performer who takes his craft seriously.
Today when Emraan celebrates 10 years in the industry, we look at the USP of this man and know how the brand Emraan Hashmi contributed to Bollywood.
Kisses: In an industry that was deprived of heroes willing to lock their lips with their co-actors (read Shahrukh Khan and Salman Khan!), Emraan became the serial kisser of B-town. College goers went berserk when Emraan smooched brazenly, showered kisses unabashedly and made out with his on-screen lady love without any inhibition. He, in a way, made kissing a normal, rather a regular feature in our films as well as in our lives!
Songs: Good music coupled with fine lyrics became synonymous with his films. From Bheege honth tere to Tu hi meri shab hain and Pee loon to Ishq Sufiyaana, at least one number from every film he did was a definite chartbuster. One can't deny the contribution of these songs in making Emraan a popular star that he is today. But it is quite commendable that his tracks are now known as Emraan Hashmi songs!
His heroines: While big league actors refused to play romantic lead opposite him, Emraan ended up working with loads of debutants and that ended up becoming a feature of his films. The fiery Mallika Sherawat in Murder to the stylish Kangna Ranaut in Gangster and from the sultry Jacquline Fernandez in Murder 2 to the sizzling Esha Gupta in Jannat 2, Emraan was paired with many fresh faces and in turn presented some feisty bombshells to the industry.
Small budgets – big hits: He set the cash register clinking with his kind of films, without big budgets and heavy star cast. He can rightly be called poor man's Salman Khan! And though many think that Emraan served mainly erotica, one can't forget that he also gave us unusual stories, quirky thrillers and believable characters with his films that netted huge profits.
His popular persona: Emraan made a guy next door with no distinct personality look cool. He showed that you don't have to have a chiseled face or a killer body to be popular. Emraan's regular bad boy image with a hint of charm helped him connect with the masses.