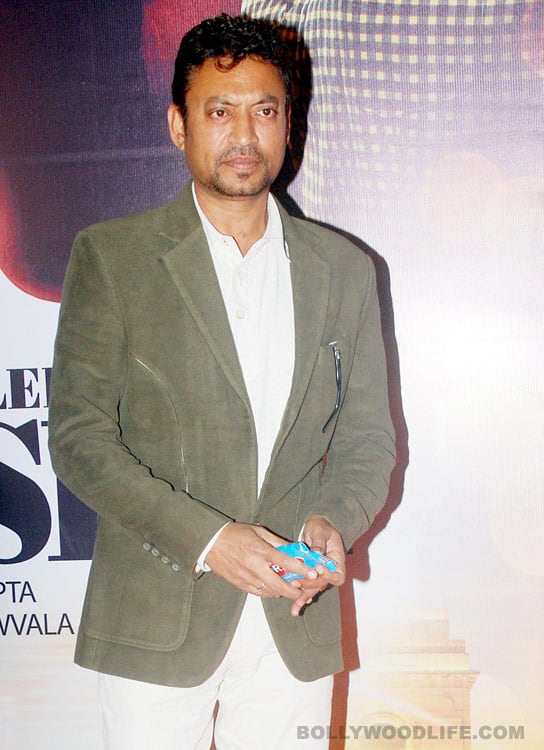 The Paan Singh Tomar actor seems to be the fave of Bollywood as well as Hollywood. But how and why did he get to his enviable position?
He is an actor among the stars, a name filmmakers trust more than they do superstars. After all, it's a given that with Irrfan Khan in your film, you almost never fail. So what is it about the actor that makes him so 'wanted' by film industries in Mumbai and Los Angeles? Quite simply: he is versatile.
A native of Jaipur, the National School of Drama (NSD) graduate has created a niche for himself with his unique acting style. Starring in a small role in Mira Nair's groundbreaking Salaam Bombay! in 1988, Irrfan continued his struggle working on the small screen in notable shows like Chanakya, Banegi Apni Baat, Sara Jahan Hamara, Sparsh, Kahkashan and Chandrakanta. His charm and in-your-face humour, as also his acute sense of how his character should be portrayed shone through in his television work. He interspersed it with roles in award-winning and acclaimed films like Ek Doctor Ki Maut, Drishti and Such a Long Journey among others.
Long before Anil Kapoor or Aishwarya Rai looked Westwards, Irrfan was offered the lead role in Asif Kapadia's historical, The Warrior (2001). From then on, there was no looking back for this actor. In 2003 came Vishal Bhardwaj's Maqbool, leaving audiences floored with Irrfan's performance. In the same year, he was seen in the very raw Haasil, a film by his old pal Tigmanshu Dhulia, who later also cast him in Charas: A Joint Operation. It's no surprise that Dhulia directs Irrfan in Paan Singh Tomar – the one film Tigmanshu has wanted to make since his assistant days.
There is something in Irrfan's eyes and the way he delivers his lines that makes him very sexy to women. Maqbool, Life…In a Metro or his last major film, Yeh Saali Zindagi, he has us hooked. His TV commercials are fun as well. People don't get bored watching them again and again – Vodafone, Aegon Religare or any other. Even Shahrukh Khan has faith in him, and cast him in the lead in Billu, his home production. The film unfortunately did not do too well, but Irrfan was appreciated.
In 2006, Mira Nair gave Irrfan a big role – of the protagonist in The Namesake. He became a household name internationally. But the biggest break came in 2007, when he had a substantial role as an investigating officer in a film based on a real story, one that had Hollywood biggie Angelina Jolie in the lead: A Mighty Heart. In 2008, Irrfan made no fuss about his cop role in Oscar-winning Slumdog Millionaire for which he took home a Screen Actors Guild award. He also did Nair's Kosher Vegetarian in New York, I Love You with Natalie Portman. In the meantime, he had progressed in Bollywood as well, with films like New York, Chamku, Mumbai Meri Jaan, Dil Kabaddi, Right Yaaa Wrong, and more.
Irrfan will be seen next in Hollywood's The Amazing Spider-Man as Dr Ratha. He also stars in the much talked about film Life of Pi, and might act for the first time with Deepa Mehta directing him in Midnight's Children. The actor will also become a Bengali professor in the HBO series In Treatment, and play a role in a new Sudhir Mishra film, Homecoming, with Chitrangda Singh. He is also playing a Punjabi man in Kissa Hai. But it's the character of Paan Singh Tomar, the Army-officer-turned-athlete-turned-dacoit that Irrfan Khan describes as the 'role of his lifetime'. We sure hope it is.