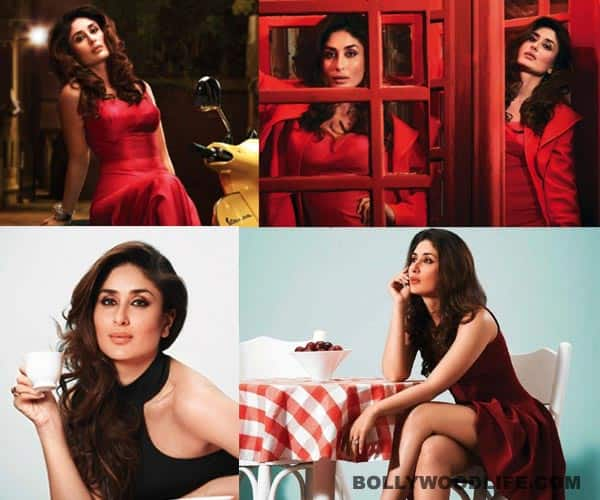 The bootylicious Bebo poses for the camera with her incredible grace and scintillating magnetism in this exclusive photoshoot for a popular glossy
Kareena Kapoor is an effortless charmer. The 33-year-old beauty knows how to keep her fans spellbound with a style statement that is rightfully her own. And here's Kareena, unleashing the force of her mega star-power and her unbelievable grace for Filmfare. The Begum of Patuadi looks absolutely stunning as she turns up in a scarlet outfit, looking every bit of a seductress that she is. Her generous pout and dark eyes simply arrest one's gaze as her long black mane tumbles over her slender shoulders. Bebo poses seductively, but her inherent grace is intact in every frame. From gorgeous to oh-so-hot to totally irresistible, Bebo knows how to strike those killer poses and up her oomph quotient.
The fabulous diva then quickly slips into a sexy black cocktail gown and sips a cup of coffee even as her dark eyes look into the camera with a myriad of suggestions. Watch this elegantly shot video and tell us why Kareena Kapoor continues to keep us enchanted with her unmatchable style?