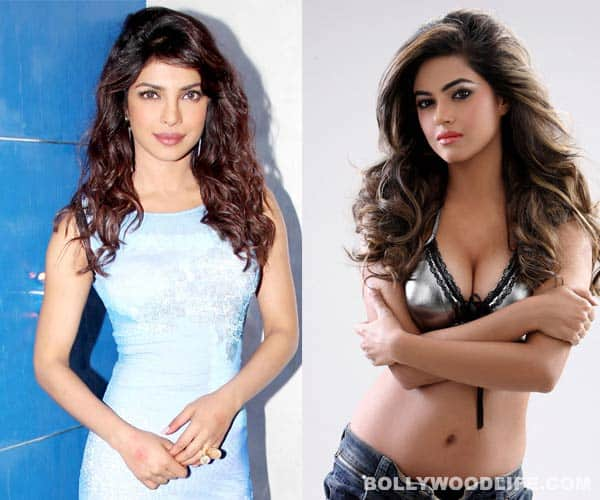 Both Priyanka Chopra and Parineeti Chopra have been keeping a safe distance from their distant cousin Meera Chopra. We wonder why…
Who is Meera Chopra? Why is she in the news? And above all, why are her distant (or close, only the Chopra family can tell) cousins Priyanka Chopra and Parineeti Chopra trying to keep a safe distance from the babe all along? In fact, even after probing about their equation with Meera, both Pari and PeeCee have chosen to give brief and politically correct answer. At best they have been keeping a mum on the Meera discussion "Meera is not my cousin. She is a cousin's cousin. We don't even meet and talk, so she is not really my family," said Parineeti about Meera in a recent interview. Are the two sister's insecure about Meera's presence in the industry or is there something else to the whole Meera story?
Meera was once a familiar face in Tollywood but she courted a major controversy when she allegedly featured on the wanted list of the Delhi Police for a murder case. Apparently, the Delhi police wanted to question the actor in connection with the death of a 28-year-old married woman Ruchi Bhuttan, who was found dead under mysterious circumstances at her house.
It was reported that Meera was in a relationship with Ruchi's husband Sumit. According to sources, Ruchi learnt of her husband's extra marital affair with Meera. After Ruchi's death, the cops had supposedly linked Meera to the case. Ever since that episode, PeeCee and Parineeti have been keeping their distance from this cousin for obvious reasons. After all, the two glam queens don't want to mar their blossoming careers for a cousin who is allegedly involved in a murder case.
Though Pari has been quite blunt about her equation with Meera, Priyanka has decided to play it safe. On asking if she would help her cousins to grow in the film world, PeCee gave a rather politically correct answer. "When I came here into the film business there was no one to support or back me or help me. I was not from film industry, I was alone. Now that I am here I will protect them (Parineeti Chopra and Meera Chopra). I will make sure I am there for them. It warms my heart to see my cousins coming here," said Priyanka.
Naturally, with their films-Zanjeer and Shuddh Desi Romance that are set to release soon, PeeCee and Pari cannot take the risk of uttering the name of their controversial cousin. Silence therefore is golden for the two!