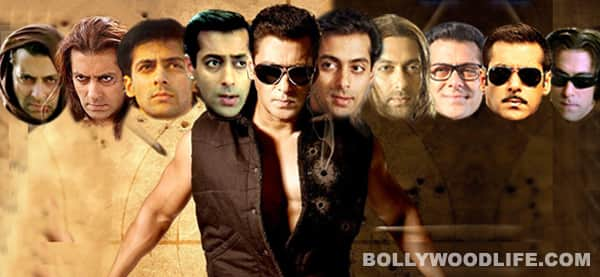 From Maine Pyar Kiya to Ek Tha Tiger, one thing has remained constant and that is the Salman Khan mania. We take a look at some of the reasons behind the ever-increasing market value of Bollywood's mega star
Rarely do you see superstars like Salman Khan. An actor whose first film as a solo hero (Maine Pyar Kiya – 1989) was a blockbuster; the next 20 years were nothing but the scariest of roller coaster rides, with the last three years being his best. But he hung on, taking on competition of all kind. In MPK, he began as the cute yet stylish loverboy who would do anything for his love. Women of all ages swooned over this new lad. You might remember the magazine cover saying 'A million dollar star is born', with a smashing image of Salman.
Aamir Khan, who had won hearts as the new romantic hero just a year-and-a-half earlier in Qayamat Se Qayamat Tak, now had to face some serious competition. Both Salman and Aamir had their fair share of flops in the initial days of their career. But while Aamir soon announced that he would do only one film at a time and focus on diverse roles, Salman ruled the masses with his total masala fare.
Rauf Ahmed, former editor, Filmfare, spoke to BollywoodLife about the Salman phenomenon, "He has always had a huge fan following of women and that has helped him sail through. Also, he has a very strong team behind him. His father, veteran scriptwriter Salim Khan has a very shrewd sense of what works at the box office."
But what is the reason for the resurgence of the Salman mania in the last three years? "I would say it's the times. I think all credit should go to director Abhinav Kashyap for creating a character like Chulbul Pandey for Salman in mega blockbuster Dabangg (2010). The role and the film reflect today's era, when people are up against corruption in society. Chulbul was a corrupt cop but always fought against evil – somewhat like Robinhood. Dabangg was more a turning point in Salman's sagging 20-year career than his 2009 superhit Wanted." And it is to Salman's credit that he is able to identify and bag the kind of roles he knows will work with the masses today. According to Ahmed, the actor "mixed action and comedy with great panache".
Indu Mirani, film writer and journalist, says Salman was huge after his debut, but he went down later. His film Bandhan (1998) is what got him back in the reckoning, she feels, followed by Biwi No.1 and Hum Dil De Chuke Sanam in the same year. But he was still not seen as successful a bet as Shahrukh Khan back then. So what has contributed to Sallu's meteoric rise to the No.1 position today, beating his arch rival-turned-buddy Aamir? This standing of the Bhai was not even seen in mega hits like Hum Aapke Hain Koun…! (1994) that ran for weeks together. Explains Mirani, "The earlier hits cannot be compared to today's times with figures, as those films released with barely 500 prints vis-à-vis the 1,500 prints of today." Salman perfectly understands this logic and thinks earning Rs 100 crore is no big deal at the box office. There's one quality of a superstar – business acumen.
Plus, there is no doubt about the fact that movies are better marketed today and there are more avenues for doing so. Also, observes Ahmed, "Salman has matured and mellowed down now. He knows there is no point in having a conflict with the media. This has happened to Amitabh Bachchan before. But the actors realise that film reviews and critics might go against them, but it's the media that helps them build a long-lasting image. Same goes for the field of politics."
But will the craze continue? "It will not, if he repeats himself. That is the mistake that Akshay Kumar made. But Salman is intelligent enough to not do it. With Ek Tha Tiger too, he has surprised everyone by doing what is not expected of him." And that explains why the megastar has now revealed that he is doing a romantic film next, and is tired of action already. He knows the pulse of the masses, or better still, knows the pulse of his fans and what they want. He also knows he is ageing and cannot do what he did 10-15 years ago. A superstar's trait again.
What the future holds for him, we don't know. But all we can say is – we are waiting to see more from you and of you, Salman!