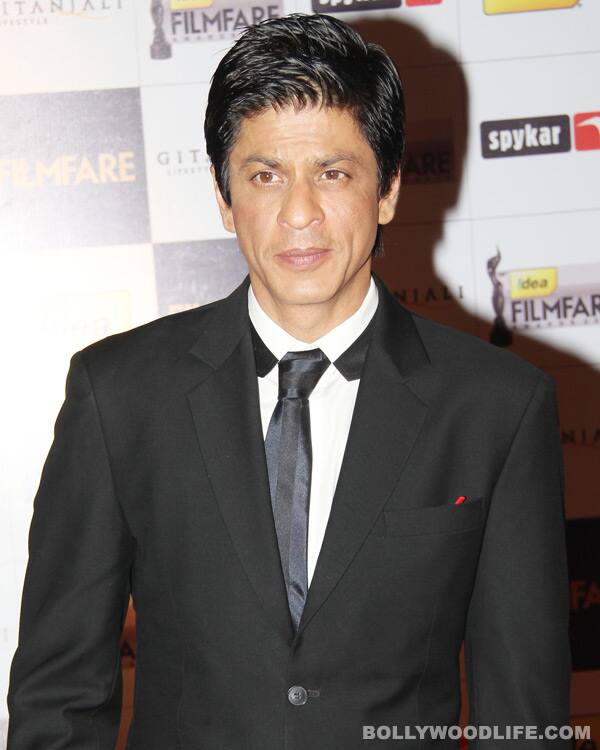 The Baadshah of Bollywood takes his credentials pretty seriously. And we say this because there's seldom a moment when the King Khan fails to make an in-your-face starry statement
Apart from cheering his Kolkata Knight Riders at the Indian Premiere League, we thought Shahrukh Khan was also getting busy with Farah Khan's next. But contrary to our beliefs, the actor said that not much is happening on the Happy New Year front. And that's because no one apart from him has been finalised for the cast.
But that's not why we're mentioning this star. It's his statements in the press that made us sit up and take notice. Remember three years ago SRK was bitten by the porn-bug and he said, "I will take my flag and put it up in America after becoming the biggest porn star of the world"? At that time, the star was super-inspired by Sylvester Stallone, the Hollywood actor who used to be a porn star.
This time around it's the stardom-bug, one of SRK's favourites, who has paid him a visit. So when the actor was quizzed about his seemingly busy schedule he said, "What hectic? I fly in my private plane. I'm a fu***n' superstar, man! I live in a presidential suite. I go cheer for my team, wish them luck, I get to chat up with people outside work and I enjoy it." Sure you do, SRK. But what's the need to keep reminding your fans about it? Or was that just a way of counting your prized possessions even after delivering a dud movie like Ra.One? We wonder.
What's more, the boastful superstar doesn't give a damn about punctuality, or so it seemed from his quote, "Had that (punctuality) been the criteria I don't think I would ever qualify to endorse a watch." Ahem ahem.
Dear Mr Khan, we're yet to figure if your statements qualify for sensible endorsements. But they definitely pass the entertainment criteria – one that your sci-fi flick failed at. Right?
ALSO READ:
Shahrukh Khan: I don't even think of myself as a star!