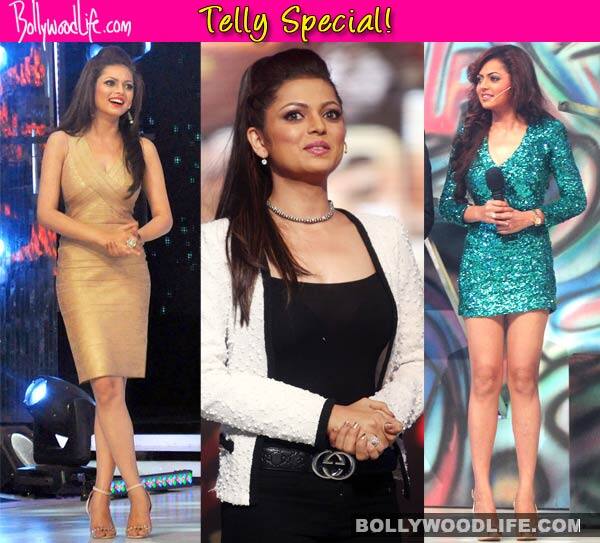 skip advertisement
Over the years, Drashti Dhami has tried her hand at a lot of things and come out successful. With the end of Madhubala Ek Ishq Ek Junoon – we wonder what her next move is
Drashti Dhami is the perfect example of an achiever.
She may have started her career as a model in music albums, but today she is a household name worldwide. She did ads and supporting roles in daily soaps until she bagged Geet Huyi Sabse Parayi followed by Madhubala Ek Ishq Ek Junoon.
It was purely her acting skills and good looks that brought her this far. Today she is also the host on Jhalak Dikhhla Jaa 7. While we admit she's not good at hosting, we believe there's nothing this girl can't achieve. Don't you agree?
We have a few suggestions on what our dear Madhu aka Drashti can do next:
Host Bigg Boss 8 with Salman Khan
By the end of JDJ 7, we are sure Drashti will become brilliant with her hosting skills. And considering Salman's mother is a big Drashti fan, the actor can ask Salman to let her co-host Bigg Boss 8 with him. Or maybe even be a contestant in the upcoming season. It's a well known fact that Salman loves launching new actors; this could be Drashti's golden entry in to Bollywood.
Action vs drama
We've seen her cry, laugh, get angry and be childish, but the one thing we've not seen the girl do is action. Don't you think it would be interesting to see Drashti as a cop or a detective in some show? Frankly, we would like Drashti in any role but a wife and bahu… it's simply makes us yawn now.
In spite of her rigorous schedules, she tried her hand at Jhalak Dikhhla Jaa 6 and walked away with the trophy. We believe there is nothing this girl can't win if she puts her mind to it. Drashti could try doing some more reality shows and let her fans get acquainted with the real Drashti.
Well if none of the other options work and the actor wants to take a long break, there's always marriage. Find a rich, hot and sexy looking businessman and settle down with him, well that's definitely not on our list. BollywoodLifers, what according to you should your favourite TV actor do?