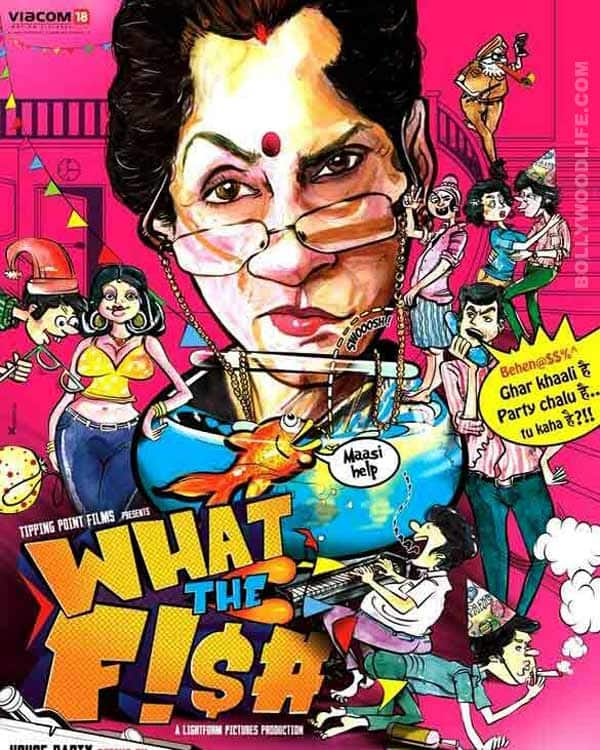 The once sexy Dimple plays a monstrous maasi in the film. And does she impress or disappoint? Well, read on
Gurmmeet Singh's What The Fish starring Dimple Kapadia, Manu Rishi, Anand Tiwari and several others has hit the theatres and the film fails miserably to entertain us! The film's plot is a desperate attempt to lead to a chaotic situation. This Bollywood flick certainly can't be compared to the likes of any Hollywood film in terms of comedy or thrill as the plot is too amateurish.
The opening scene of the film shows Sudha Mishra (Dimple Kapadia) cribbing in the backseat of a cab as she returns to her Vasant Kunj residence after a month-long trip. She's irritably loud, so much that the cabbie can't wait to get rid of her. Sudha Mishra is an old divorced lady, with an intractable obsessive compulsive disorder of keeping things spick n' span and bossing around everyone just to prove her point! Anyways, as Sudha reaches her peaceful abode (as it appears), she first goes on to greet her parrotfish Mishty. As her loving Mishty doesn't greet her back, she counts the spots on the fish and then starts cribbing again that it's not her Mishty and something's fishy. As she proceeds to her room, a lady dressed in white rushes out of her room. And then the story begins! There are several flashbacks and the movie keeps switching between the past and the current situation.
Through the flashback, we get to see that Sudha had handed over the responsibility of her house to her niece's fiancé, Sumit. On the first night itself at his friend's bash hosted at monstrous maasi's house, Sumit ends up handing over the house to a couple, Neerav (Anand Tiwari) and Gopa (Deepti Pujari) who have eloped from their hometown. For some office work, Neerav has to leave the town. As Gopa gets scared alone in the house, Neerav asks his friend Ravi (Manu Rishi) to accompany her. Well, Ravi is a cheap character who uses Gopa, following this, Gopa falls in love with him and addresses him as her husband. Ravi obviously wanted no strings attached and ropes in Meenal (Geetika Tyagi) to help him get rid of Gopa. Gopa leaves, enters Meenal's brother Rajpal in maasi's house. Rajpal is a boxer during the day and a cross-dressing Kathak dancer by the night. Meenal's friend Hooda (Mithun Rodwittiya) wants a favour from Rajpal and eventually he ends up with the house. Then there's a Manipuri family (Hooda's friends) who takes over the house-turned-guest-house! The situation gets chaotic, leaving the house in shambles! What more, maasi's Mishty dies in the first half of the film itself. And then the characters keep replacing it with a new fish each time 'coz everytime some situation unfolds and the fish dies…
Meanwhile, Sudha Mishra cooks up whimsical stories about the lady in white who jumped out of her room, only to flee away. She repeats the story to anyone who will listen, which gets a bit monotonous and melodramatic after a point of time. She portrays the lady as a chudail. Phew! Enough said now! The film is too predictable and unbearable as it's really not funny!
While the filmmaker has switched between frames with great ease, so as to not confuse the audience, there are several dangling loose ends. The trite writing certainly doesn't work for What The Fish as it totally lacks thrill. After Gurmmeet Singh's Warning, which needed a warning that watch only if you have nothing else to do, we'd expect the director to be warned to deliver something better than What The Fish. Just like his previous film, which had a weak casting, even WTF has too many characters and no meaty roles. Only Dimple as Sudha Mishra is a well-known face, which makes us wonder if the filmmaker wanted to cash in on her popularity. 'Coz frankly, the nitty gritty and finicky Sudha doesn't have much of a role. Yea, the film revolves around her house, but she isn't seen on the big screen for a long time. In fact, Dimple seems to have repeated herself in this film. She was seen playing a loud lady previously in Cocktail. Thankfully, the makers saved themselves the trouble of filming too many songs and saved theirs as well as our time! 'Coz even good music couldn't have saved a film this drab!
In the middle of filming, the makers seem to have forgotten the purpose of entertaining and ended up annoying us instead. We're glad that the film begins with a quote that no plants or fish were harmed during the making because by the end of the film, we can only sympathise with the money plant and the fish! On a concluding note, we'd like to warn the Warning director to not release any film on Friday the 13th and also give him a pat on his back for his courageous feat of releasing a film like What The Fish on a supposed unlucky day… Overall What The Fish is a total tie tie fish! Watch it only if you have nothing else to do this weekend. Or save the money to watch Dhoom:3, whose ticket prices are likely to rise up to Rs 500!  
Rating:
out of 5
Reviewed by Bhagyashr​i Pawar
* Poor
** Average
*** Good
**** Very good
***** Excellent