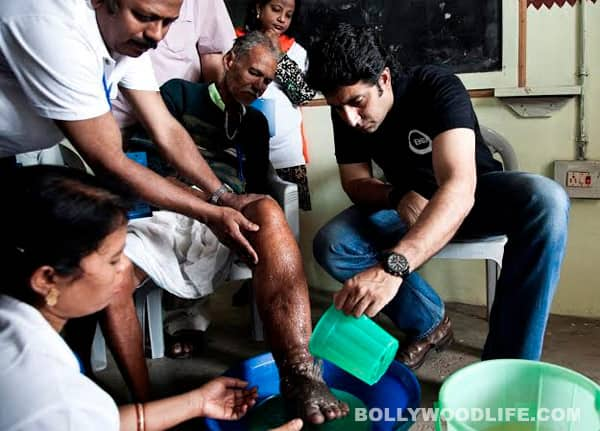 The Dhoom star is the first END7 campaign ambassador in India. Read on to know more about it…
Abhishek Bachchan was in Odisha to inaugurate his role as the first END7 campaign ambassador in India conferred by the global network for neglected tropical diseases. It was an emotional moment for the star as he came face to face with people affected by lymphatic filariasis (elephantiasis). In a striking and emotional moment the Bol Bachchan star poured water over the feet of an elderly man suffering from the disease, a debilitating and disfiguring neglected tropical disease (NTD), at the Banamalipur Resource Centre run by Church's Auxiliary for Social Action (CASA) just outside of Bhubaneswar in Odisha, India. The eastern state of Odisha has one of the highest burdens of NTDs in the country.
Jr Bachchan met women and men suffering from the disease. These patients shared heartbreaking stories with him, including how the stigma and shame associated with the disease's massive swelling prevented them or their children from marrying, securing employment and socialising freely within their own communities. He also witnessed first-hand various disease management and disability prevention techniques, including washing, drying, exercise, massage, and elevation of the limbs, to alleviate some of the suffering.
"We have a staggering proportion of fellow Indians who are infected by or at risk of contracting at least one NTD." said Dostana star. "My first site visit with END7 has been a deeply moving, personal experience that allowed me to understand how these diseases can devastate entire families through the pain and stigma they cause," he continued. "We are making good progress and have free, safe treatments available. But we must build greater momentum and every Indian should do their part to help make defeating NTDs by 2020 our country's next big health success story."
Maintaining the progress that India has gained against NTDs is crucial as India comes closer to achieving the control and elimination of five NTDs by 2020. The Happy New Year star will play a key role in drawing attention to NTDs as an achievable health priority for India, educating the public about the impact of NTDs and the importance of public participation in free NTD treatment programs, whilst also encouraging national and state level policymakers to continue making the cost-effective investment in NTD programs.
END7 is the first and only global public awareness campaign dedicated to controlling and eliminating the seven most common NTDs by 2020. It was launched in 2012 by the Global Network for Neglected Tropical Diseases, an advocacy initiative of the Sabin Vaccine Institute. It is great to see such a celebrity becoming responsible towards the desolate and destitute citizens of the country. Kudos Abhishek!