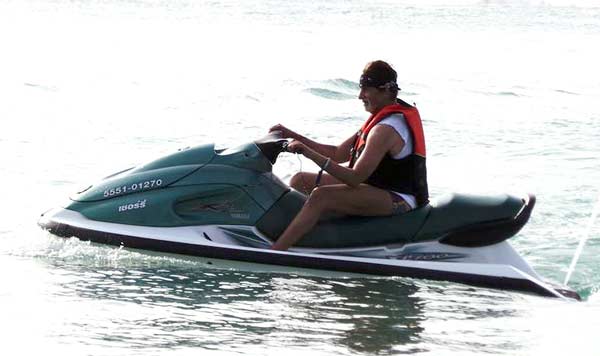 skip advertisement
Big B is generally seen in formal clothes – all suited and booted, but Sr Bachchan decided to let his hair down literally!
Amitabh Bachchan like never seen before sans his velvet suit or then embellished sherwani – in trunks and a white ganjee. That's one rare sight,  isn't it? Big B decided to have some fun times by the sea it seems. He shared a few pictures on his social networking site and we must say that BollywoodLifers would be delighted to look at them. While the megastar has played various characters onscreen and it has been a delight to watch him, his real life fun avatar was even better. Bachchan posted these pictures of him taking a jet ski ride and didn't disclose the location (fearing breach of privacy?) our guess is that this place definitely was secluded. How else would a crowd not gather to catch the Shahenshah of Bollywood in action.
Bachchan also posted, "My hesitant attempts at JetSkying on waters of the sea .. later of course I was zipping around at 60 mph .." and also added later, "Out in the sun … out of the water .. out of a jet ski .. out on a limb … !!"
All we can say is that Big B knows how to have fun, hai na BollywoodLifers? As for the trunks, we like Sr Bachchan's bold look and wish he doled a tip or two to Abhishek Bachchan on how to carry this look with ease. May be we could have Jr Bachchan do John's yellow trunk act in Dostana 2, wink! wink!