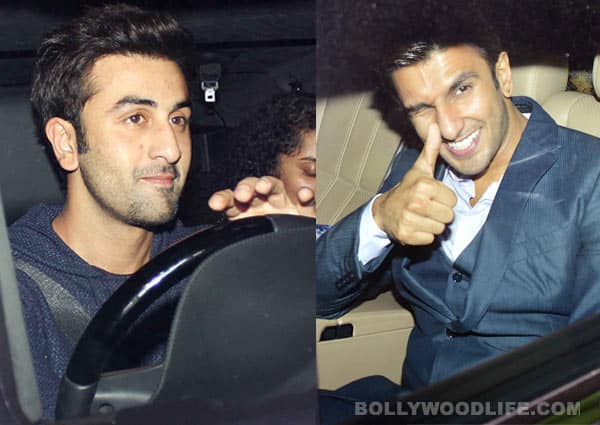 It was quite surprising to see the two boys getting along with each other at a recent event
Ranbir Kapoor and Ranveer Singh bumped into each other recently at the special screening of latter's film, Gunday and we expected a lot of fireworks to happen between them considering the two share a rather awkward relationship courtesy Deepika Padukone. However, we were surprised when we heard that Deepika's current and ex-boyfriend bonded big time at the screening.
"At the screening of Ranveer's film Gunday that was held last week, Ranbir walked in with his director friend Ayan Mukerji. The Kapoor scion seemed to be in a good mood as he indulged in casual banter with the guests present. Ranveer walked in later and was at his jovial best as he bumped into Ranbir. They then spoke with each other for nearly half an hour," an onlooker was quoted by a tabloid. We wonder, what or rather whom did they talk about for so long? Wink, wink!
Deepika was also present at the same event which also came as a bit of a surprise to us."Deepika walked in right after Ranveer made an entry. But it was surprising to see her ex-flame and her current beau get along with each other. In fact, Singh was at his wittiest best as he cracked jokes and mingled with everyone," a source said.
Now this is something, isn't it? Well, as they say expect the unexpected.