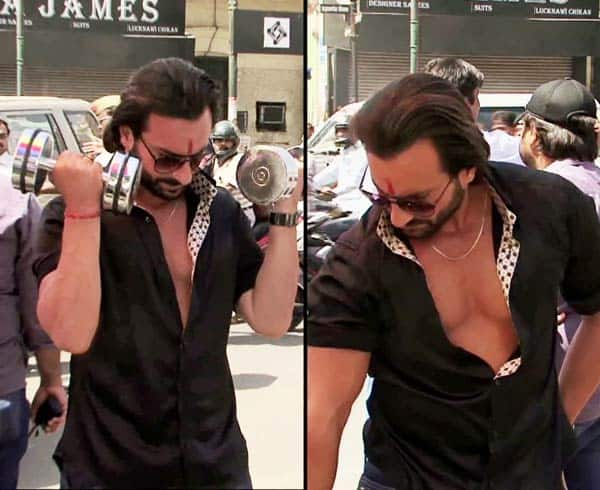 The Chote Nawab's next is a gangster film and to get his rugged look right Saifu turned a fitness freak on the sets of Bullett Raja
Saif Ali Khan left no stone unturned to get his body in perfect shape for Tigmanshu Dhulia's action flick Bullett Raja which also stars Sonakshi Sinha in the lead. After a point the Cocktail actor got so obsessed with his fitness that he would start working out on the streets of Lucknow literally! Besides becoming a regular at Lucknow's local gyms, we hear Saifu transformed the crowded streets of the Nawabi city into a gymkhana. Our khabrooo tells us that every time Mr Khan would get a break, he would do quick pushups, go for a jog or run amidst hundreds of people who would gather around the sets. The actor remained unfazed by the mob and would follow his routine every day. Looks like Saif made sure he stayed in the Bullett Raja mood all the time.
"It's very important to look good as it's a visual medium. Bullett Raja is a contemporary character and the kind of lines he speaks, the kind of situations that he finds himself in, he has to physically also look like a tough guy, visually he has to look capable of being that tough" said the Bullett Raja actor, when he was quizzed about his obsession with fitness.
Going by the first trailer of his film, wethinks Saif's efforts have paid off! Say bye bye to funny man and welcome the macho man – Saif Ali Khan!