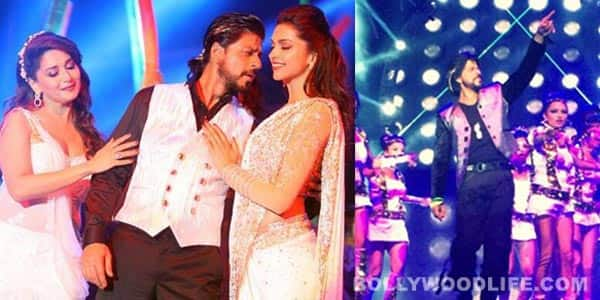 King Khan is one actor who has huge fan following across the globe. So when the actor recently performed in Dubai, it wasn't surprising that the venue was jam-packed. However, things turned ugly as fans weren't happy. Read on to know why…
Shahrukh Khan and his Temptation Reloaded colleagues Madhuri Dixit Nene, Deepika Padukone, Jacqueline Fernandez and Honey Singh took Dubai by storm with their lively performances. Apparently, 10,000-odd fans were present at the venue to see their favourite Bollywood stars perform live. In fact, the crowd sitting in the front rows got carried away with the electrifying atmosphere and started dancing which blocked the view of the audience sitting behind. That's when the police had to intervene. But things turned ugly as the fans got miffed coz they had paid a bomb for the front the rows and were in no mood to sit tight. This eventually led to a clash between the fans and the police officials.
Reports are doing the round that the organisers sold more tickets despite knowing that the venue could not accommodate so many people. And this very reason contributed to the dispute which took place during the performance.