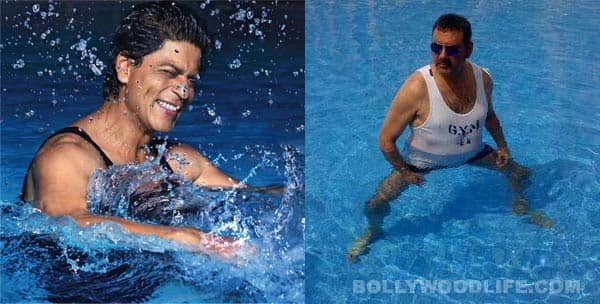 The two actors from Farah Khan's Happy New Year have been spending a lot of time in the pool at Mannat. Is it some new method to warm up during these winters? Or a new workout technique? Well, read on to find out…
A little birdie tells us that Shahrukh Khan and Boman Irani, who are working together in Farah Khan's Happy New Year have been spotted together in a swimming pool in Mannat. Is it a technique that Farah is using for the co-stars to bond? Actually, no. We hear that the two actors are required to do underwater diving in Happy New Year. For this reason, SRK and Boman have got a trainer from England, who is giving them diving lessons at Mannat.
Our secret birdie chirps in that the underwater sequence will be shot in a pool located at Khopoli. Reportedly, the pool is 22 feet deep, with clear water which is perfect for scuba diving. Sounds fun, no? We doubt that; considering that the underwater scenes will be shot post December 20 ,the water is bound to be really chilled given to the cold winters settling in.
Anyways, we hear that Boman and Shahrukh are doing quite well with their underwater training. So much that the two were recently found playing cards under water and have now challenged their director, Farah to dive with them! Well, well, we wonder how Farah will call for 'cut' if Boman and SRK decide to hide underwater during shooting…