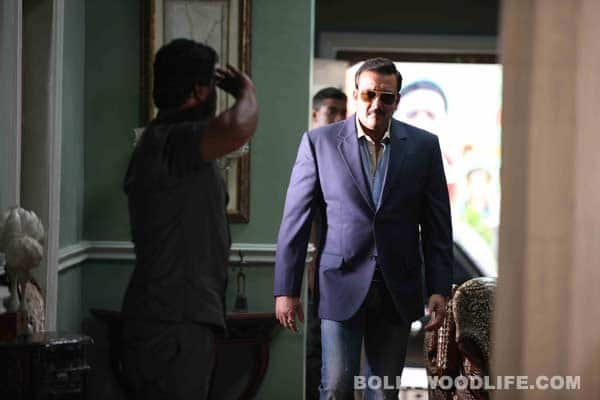 Following the Supreme Court verdict, the Munnabhai actor has been tirelessly working to complete work on three movies – Zanjeer remake, Policegiri and P.K.. We just had to wonder what's going to happen to Dutt's other projects, the ones that he has already signed – Unglee, Hum Hain Raahi Car Ke and Mr Fraud…
The Supreme Court verdict today may have given Sanjay Dutt some relief, but the actor is super worried, as he still has to finish shooting for three films – the Zanjeer remake, Policegiri and P.K., and he has very little time (read: four weeks) left before he surrenders and starts his jail sentence. The verdict, industry and trade experts feel, may lead to quite a big loss for Bollywood.
According to trade analysts, the industry could suffer a loss of at least Rs 80-110 crores, considering Dutt's popularity at the box office right now. The three major films that are most likely to suffer are Apoorva Lakhia's Zanjeer, Rajkumar Hirani's P.K. and KS Ravikumar's Policegiri. Zanjeer and Policegiri are nearly complete – the one schedule left for Zanjeer had to be postponed because of the Hyderabad blasts. Rajkumar Hirani's P.K. might be hit hardest, as sources believe there's lot left to shoot as far as Sanjay's scenes are concerned.
Veteran film critic and trade analyst Amod Mehra tweeted last month – "The verdict will affect three of Sanjay's films. P.K. is 50 percent complete, Policegiri is 80 percent complete and Karan Johar's home production Unglee is 30 percent complete." But when we called Mehra for his comments on Sanjay's latest court verdict and whether the actor will be able to complete his impending movie shoots within the four weeks he has now, he refused to say anything. Our trade expert Akshaye Rathi too excused himself from this with: "Wrong to comment on a court's verdict." We agree.
Like a thorough professional, Sanjay is leaving no stone unturned to complete all his pending projects before his jail term begins; in fact, the actor has even installed a recording studio at his home in order to complete the dubbing of Zanjeer. Juggling between pending projects, the paparazzi spotted Dutt shooting a Ganpati song for Policegiri last month. "Policegiri is almost over. Hardly 5 percent work is left which will be done soon," informs the film's spokesperson and adds, "Sanjay Dutt is almost through with his part, guess only some part of his dubbing is left. Sanjay was supposed to start work on a film titled Vasooli with the Policegiri producer – TP Agarwal and pre-production work was in full swing but now with the court's verdict, no idea what's going to happen to that film.
Sources tell us that Rajkumar Hirani and Vidhu Vinod Chopra have said that they will wait for their Munnabhai to be a free man and will then begin shooting for the third film in that franchise – it was supposed to go on the floors by the end of this year. The reel Munnabhai will have to wait for the real Munnabhai for three-and-a-half-years…or perhaps 13 months less!
Besides these major productions in which Dutt will feature, there are a number of sizeable roles that the star will do in various other films, like Hum Hain Raahi Car Ke with Juhi Chawla and Mr Fraud with Ajay Devgn and Bipasha Basu, which we hear is stalled. The Agneeapth actor was also supposed to do a cameo in Ghanchakkar, but we have not been able to confirm that. In fact, Sanjay has films slated to release up to 2014!
With the declaration of the court's verdict, filmmakers will certainly feel jittery about the fate of their movies. Well, Sanju baba might succeed in living through perhaps the toughest time of his life and emerging stronger than ever from this latest crisis, but the fate of films related to the star and their status is still an unsolved mystery.