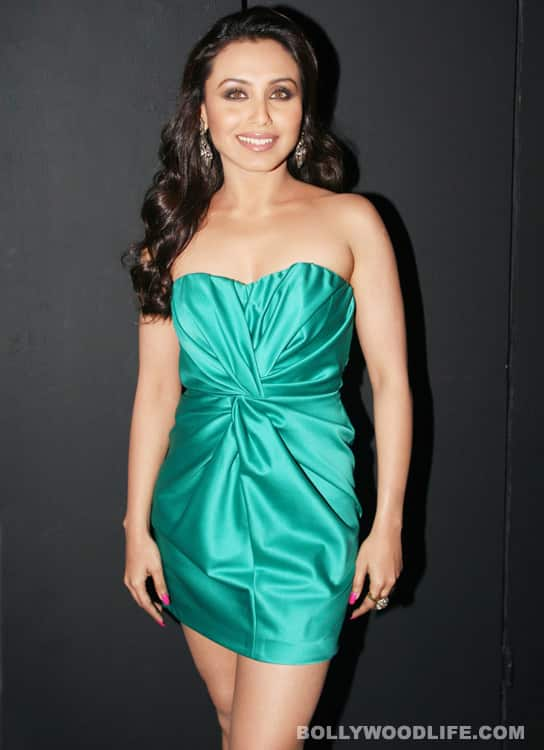 Yash Raj Films is keen to cast their favourite actor Rani Mukerji in a forthcoming biggie. But we think that logically it isn't possible or advisable for her to be part of the franchise!
Gossip is that the big bosses in the plush offices on the fourth floor at Yash Raj Films have been contemplating casting their favourite leading lady Rani Mukerji in one of their forthcoming films. And why not? After all, she is one of the finest actors in B-town and like a family member to the Chopras. So 'coz of Ms Mukerji's sheer star power she has to be cast in one of those flicks with top stars galore. That means anything that the three Khans are in – Yash Chopra's directorial with Shahrukh Khan, Ek Tha Tiger with Salman Khan and Dhoom:3 with Aamir Khan.
However, since filming for SRK and Salman's movies has already begun, the only option is the slick action drama starring Aamir. And as you all know, the film has now been pushed to next year, as Mr Perfectionist needs time to prepare for his negative avatar. Thus this does allow the writers of Dhoom 3 enough time to chalk up a role – perhaps on the lines of Aishwarya Rai Bachchan's character in Dhoom:2 – for Rani. But that leaves us wondering, what will Katrina Kaif, who is paired opposite Aamir, do in the film if Rani has a strong role? Isn't Kat promised equal footage and importance to the baddie in the action drama? The two constant actors in all Dhoom films, Abhishek Bachchan and Uday Chopra, are also part of this one. So isn't it already too crowded with big names? Where will Rani fit in the busy plot? But one thing's for sure – if this bit of gossip is true, Dhoom 3 will be one multi-starrer to watch out; apart for the thrills and frills, for the scriptwriter's imaginative skills!